The European Union has been moving closer to a cashless society in recent years, in some countries more than others. Fueling the trend has been the rise of financial technology, or fintech solutions, as consumers flock to mobile and internet offerings over brick-and-mortar banks, leaving cash out in the cold.
That's not to say that the world is headed for a completely cashless society, however, as bank notes still seem to have a role to play for the tech averse and other scenarios (and for some more nefarious activities.) And while COVID-19 pandemic has been a catalyst for the rise of cashless transactions, households are increasingly hoarding savings throughout the pandemic too amid fears that they will be joining the unemployment lines, according to ING economist Peter Vanden Houte cited by the Bloomberg.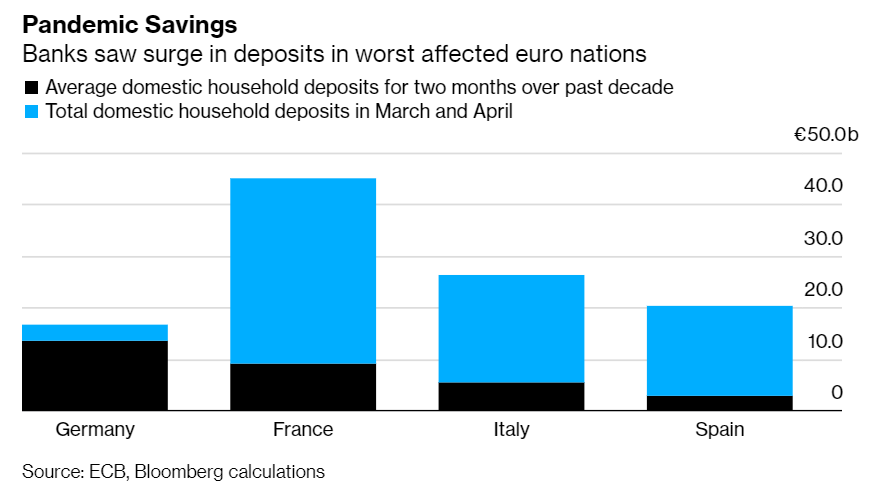 Source: Bloomberg 
Nonetheless, the COVID-19 pandemic has amplified the cashless trend in the eurozone — amid fears that dirty banknotes that people touch with their hands could carry the virus — and thrust fintech solutions into the spotlight. People are shopping online more than ever as lock-down measures prevent them from visiting brick-and-mortar shops.
It's not uncommon for restaurants and other businesses to block cash payments, requiring that customers instead pay by credit or debit card or via their smartphone. Card companies are doing their part, with industry giants like Visa raising the limit for contactless card payments in, for example, UK from GBP 30 to GBP 45.
And while financial institutions have been the leading providers of financial services, fintech firms are gaining popularity for their agility, speed of service, convenience and ease of use. Many of these startups have been among the chief beneficiaries during the pandemic as people turn to internet and mobile solutions over traditional brick-and-mortar banking services.  Consider this quote by Reijo Karhinen President and Group Executive Chairman of OP Financial Group in a Deloitte report on Fintech in the Nordics:
"If a customer visits our branch office 20 times a day, our personnel may start to question this customer's balance of mind. If the same customer visits our mobile app 20 times a day, we are pleased to have such an active customer." 
Prior to the pandemic, cash was used for 80% of transactions throughout Europe, according to The New York Times, but now even policymakers are calling for a change, including European Union Commission Vice President for Financial Services Valdis Dombrovskis, who recently tweeted:
"Time to swap your coins for payment cards — safer for containing coronavirus."  
UK Goes Cashless
While the UK has withdrawn from the EU, it has still been influential in the trend toward a cashless society. Debit cards surpassed cash as the most popular payment method several years ago, the Bank of England data revealed. According to data firm Dynata, 50% of British citizens chose cashless as their preferred payment method before COVID-19 came on the scene. That amount has since risen to nearly 60%.
The trend away from cash has benefited the region throughout the sudden COVID-19 pandemic. Now it appears the cashless has momentum on its side, according to UK Finance data.
in 2017, 3.4 million Brits lived a mostly cashless life,
in 2018, 5.4 million Brits lived a mostly cashless life,
in 2019, 7.4 million were living a mostly cashless life.
In fact, since COVID-19 came on the scene, the pace at which Brits used cash was slashed in half as retailers closed their doors and consumers flocked online to make purchases at e-commerce sites.
Part of the trend is the rise of contactless payments, one segment of the cashless universe. As the name suggests, contactless payments are a way to pay for goods and services without physical contact at a card or point-of-sale device. For instance, if you've ever seen a customer tap their phone to pay for a latte at a Starbucks, they were using a contactless payment.
And while European countries don't take the top spot for contactless payments globally, there is evidence that consumers are increasingly preferring to transact using this method in the UK. Once the pandemic is over, it wouldn't be shocking if the push toward a cashless and contactless society persisted as people may eventually decide to stick with the new habits they have developed.

Source: ZDNet 
Fintech trends in the UK
Fintech firms were already disrupting the traditional finance space before COVID-19 even came on the scene. They sped transactions up and made payments more convenient for businesses and consumers alike. But now they are increasingly looked to as the future of finance as bank branches have closed during the pandemic and people have shunned cash.
Sweden and Norway Set the Pace
Sweden and Norway are far ahead of their EU peers when it comes to having a cashless society. Take Norway, where more than 80% of locals have accessed P2P payments once or more and the share of cash total supply is only slightly more than 2%. Its neighbor Sweden boasts a similar theme, where 90% of the population over the age of 12 uses a smartphone and a mere 13% doled out cash for their latest payment. Sweden's central bank, Riksbank, even launched a pilot program for its own digital currency, the e-krona.
Sweden, however, went against the grain from its Nordic peers during COVID-19, making the risky decision not to implement lockdown measures and leaving the responsibility to social distance in the hands of its citizens. Reports suggest that the move did little to benefit the economy but did catapult the country into the unfortunate position as having one of the world's highest mortality rates from coronavirus.
The Nordics and Fintech
Fintechs have been on the rise in the Nordic region in recent years despite a slowing economy. In May, right in the midst of the COVID-19 pandemic, Swiss fintech Anyfin raised USD 30 million in funding from investors, the proceeds from which the startup plans to direct toward more innovation and an expansion beyond Sweden and Finland.
The Anyfin app uses artificial intelligence to find Europeans the lowest interest rate for refinancing loans, which it bets it can slash in half on average. Users must only snap a picture of the credit card bill or loan statement, in response to which Anyfin sends cheaper options that the user can select with a single click on their mobile device.
Stockholm-based Klarna, which offers consumers payment plans for online shopping, has observed trends from its users during the coronavirus from various regions around the world. In Klarna's domestic market, most people did their online shopping on weekdays during business hours, peaking during noon and 1 pm, when most people were on their lunch break. The company also reported that people were using their computers over their mobile devices to make purchases, reversing a trend that was in place in early 2020 before COVID-19 came on the scene.
Certain demographics have increased their spending in the following categories: 18 – 35 year olds for "home & garden, entertainment and children's products"; 36-55 for "home & garden, children's products, electronics"; and 56 and older for "home & garden, food & beverage, health & beauty."
Cold, Hard Cash
In the BeNeLux region, it's a different story. For instance, in Belgium, cash represented roughly one-third of the value of all transactions in 2017. In the Netherlands, nearly 60% of P2P payments were completed with cash and roughly one-third of point-of-sale transactions were done with cold, hard cash last year. Over in Luxembourg, 60% of point-of-sale transactions are done with cash.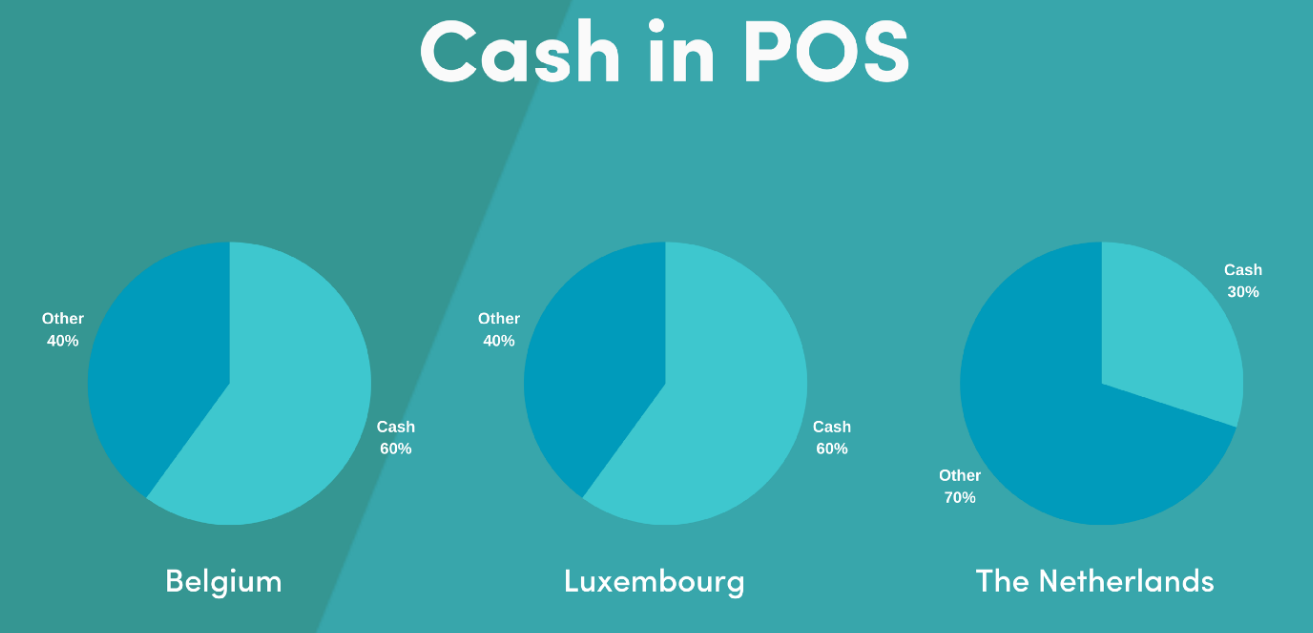 Source: Payconiq 
Cashless and Fintech Trends in the Baltics
Despite its small size, with a population of 1.3 million, Estonia has been a model country for the adoption of digital technology. Estonia takes the No. 1 spot globally by Digital Life Abroad, which ranks countries on features such as online government services, internet availability, cashless payments and more. That's why it's not shocking that Estonia leads the Baltic states when it comes to cashless taxi payments.
According to 2019 data and analysis from Yandex.Taxi and ECOMMPAY, Estonia is out front for cashless transactions in the Baltics for ride-share activity, where 70% of customers choose to pay via card. There is a common thread, however, across Estonia, Lithuania and Latvia, where customers paying via card turn to ride-share more often vs. cash payers. The breakdown is as follows:
Estonia locals preferring card payments take nearly three more ride-share trips than customers paying with cash,
Latvian ride-share customers using card payments take 1.7 more ride-share trips vs. cash-paying customers,
Lithuanians who pay by card are much more likely to be repeat customers on the Yandex.Taxi app compared to customers paying with cash.
Yandex.Taxi has seen an average monthly increase of 2-3% in card usage for all of the countries in which it operates.
Since COVID-19 outbreak, there is evidence that the role of fintechs in the region is increasing. For instance, the  European Bank for Reconstruction and Development (EBRD) in June bolstered its relationship with Rockit, a Lithuania-based fintech hub where entrepreneurs innovate, to strengthen the development of fintech in the Baltic region.
The deepening of the partnership appears to be in response to COVID-19, which according to the announcement "exposed vulnerabilities in the way we are running our economies," adding that it serves as a "wake-up call to strengthen resilience." Fintech is expected to play a prominent role in this new paradigm.
Meanwhile, Austrian fintech PaySafeCard has recently expanded into Latvia for online prepaid payments. The company says the launch in the country was in response to customer demand, giving consumers the ability to make purchases with benefits that are similar to using cash, as they can keep their personal financial details, including card and banking information, hidden.
Germany's Buried Treasure
While much of the Eurozone is embracing digital payments, in Germany, the locals continue their love affair with cash and are even known to bury their treasure. It's not uncommon to find cash in the oddest of places, from a household boiler, where the paper money is at risk of going up in flames, or in attics where rodents use it to keep warm. Germans' love for cash is so intense that they will even bury it in their gardens, where it's sure to decompose over time. It's not that the country hasn't embraced technology innovation, in some cases to their own detriment.
Fintech startup Wirecard is a German-based cashless payments company that recently became embroiled in a USD 2 billion accounting scandal, leading to an executive shakeup and an insolvency filing. It also tainted the perception of the regulation of fintechs in the country. Perhaps scandals like this explain why cash is embedded in the culture and has yet to get knocked off its mantle by digital solutions.
As a result, estimates suggest that Germany is hoarding more than EUR 150 billion in cash, as of 2016, which translates to roughly EUR 1,800 per person. In fact, there has been a strengthening trend of "domestic hoarding of euro banknotes" this century, even as digital and mobile solutions have gripped the financial industry worldwide.
Germany boasts "millions of euro banknotes and billions of euro coins in circulation," with tens of thousands of ATMs sprinkled across the country. Germans carry an average of EUR 107 in cash with them in their wallets, and pay for groceries and restaurant tabs with cash twice as frequently than their Eurozone country counterparts.
According to Berlin-based online banking startup N26, the onset of COVID-19 may have had more influence over Germans' use of cash than any technology ever could, Georg Hauer, general manager of the startup, noted. Hauer explained how small businesses that were previously cash-only companies have changed their approach and have begun taking card payments, with some even banning cash payments altogether, particularly in the nation's capital.
Incidentally, during COVID, N26, which is focused on mobile banking, raised USD 100 million in a Series D round from major investors including Tencent. While the company's cash buffer was already strong, N26 pursued more funding in response to more people doing their banking from home. The fintech, which boasts 5 million users, has experienced a surge in e-commerce payments among baby boomers while ATM withdrawals have been cut in half.
Fintech startup Klarna has offered evidence of a similar trend unfolding in its business in Germany, saying that customer behavior has changed since lockdown and social distancing measures took hold. Klarna says that e-commerce orders soared 36% among its German users between February and March.
Cash Hangs On
An informal Reddit poll recently illustrated when members expected their countries to be cashless in the Eurozone. According to the comments in the thread, the vast majority of people are expecting cashless to be upon their home countries sooner than later. And while cash isn't expected to disappear entirely, fintech has risen to the occasion in a COVID-19 world. And history has proven that during crises is when people across all generations change their habits, which could pave the way for new routines that don't involve cash across the Eurozone.
Do not hesitate to share this article!