When talking about investments into fintech startups and SMEs, it is becoming almost normal to have new record figures to look at every now and then. According to a report just released by CB Insights, in 2018 a total of $39.57B were raised by VC-backed companies, making it the best year ever registered, with an impressive 120% increase on the previous one, largely supported by the expansion in the number of the mega rounds of more than $100M each.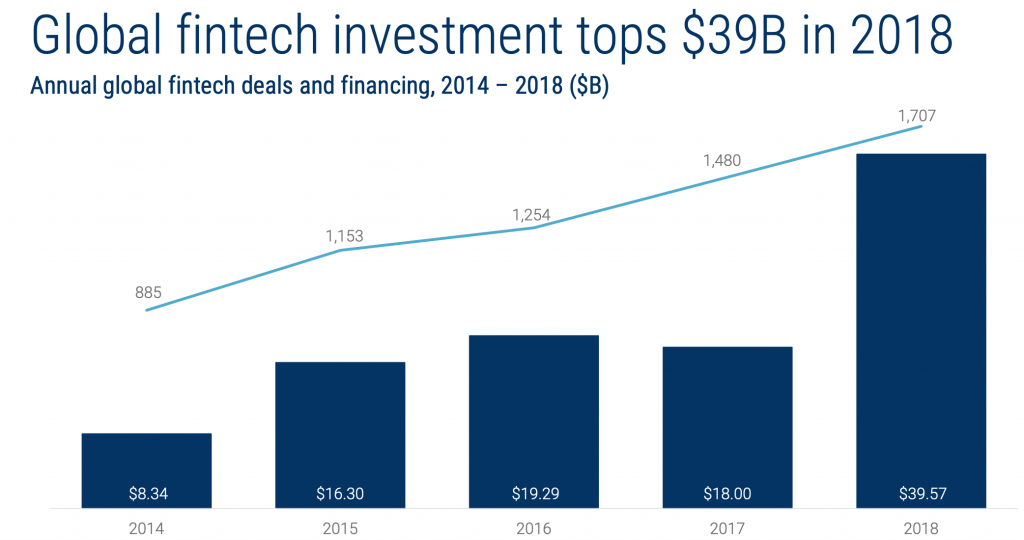 Source: "2019 Fintech Trends to Watch"  by CB Insights
Apart from the sharp increase of fintech investment, 2018 was also the best year in terms of funding agreements, with 1,707 deals sealed globally and 15% increase year-on-year (YOY), despite the slight deceleration in the last quarter of the year. While the US remained at the top of the market, both in terms of number of deals, with 659 investments, and of funding raised, with a total of $11.89B, the growth of the industry as a whole does not seem as US-centric as it used to be. North America has grown 43% YOY, compared, for example, to a 265% increase in Asia (excluding the $14B mega-round closed by Ant Financial).
At this time and day it is fascinating to observe the evolution of market development and the levels of investments occurring in South America. Notwithstanding the social, political and monetary instability in the region – e.g. think for example about the growing crisis in Argentina, the election of the controversial new president in Brazil, as well as the ongoing political turmoil in Venezuela – the investments in South America's fintech have increased by 167%, reaching $540M through 55 deals. Besides, the region with Nubank entering the fintech scene has got its first unicorn. Nubank is a Brazilian digital bank located in São Paulo, that received a $180M investment from Tencent at a $4B valuation. Now, with Nubank and a few other new unicorns, there are 39 fintech companies worth more than $1B, with a combined total value of $147.37B.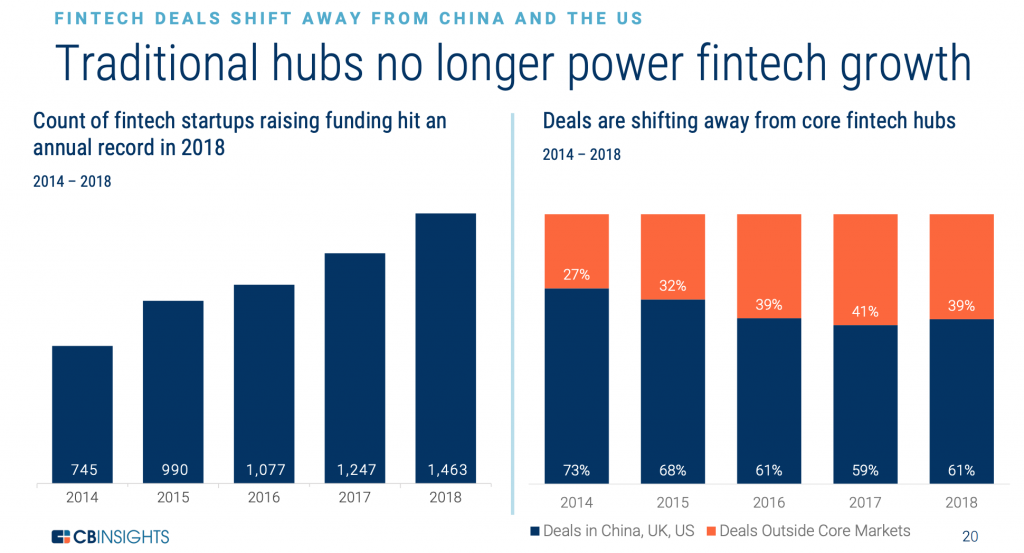 Source: "2019 Fintech Trends to Watch" by CB Insights
Thanks to the considerable growth in South America and in some of the other emerging regions, like Africa (+376% YOY), Australia (+396% YOY) and South East Asia (+143%), in the last few years we have begun to witness a higher percentage of deals registered outside the initial fintech hubs – the USA, the UK and China.
At the moment South East Asia seems to be one of the regions with the biggest potential. Local fintech firms are attracting more attention, increasing amounts of funding and foreign investors, enabling further expansion in the market, and this year's developments might turn out to be the turning point in industry's path of progression in this particular region. Other things expected to happen this year are: fintech companies transitioning from mono-line to multi-line, re-bundling their products/services and targeting new verticals; birth of new investment platforms and asset classes; increased focus of fintech firms on regulatory compliance; further development and new players likely to emerge in the payment sector; increased impact and disruption of the Real Estate sector through financial technology.
If interested to dig deeper and learn more about some of the fintech trends worth watching this year, grab a cup of coffee and dive into this report prepared by CP Insights.
Do not hesitate to share this article!