It's August, it's still quite hot, and you are probably eating an ice pop on while laying by the swimming pool. That's cool, we know, we do that as well! But in this time of the year when things are usually a bit slower, it might be a good idea to reflect on what has happened over the past few months. Here we intend to take a look at a report recently released by Finnovating about the state of investment in fintech companies, in Europe, in the second quarter of 2019, to get an idea about how things are evolving for the sector.
Let's start with the good news – the interest of investors for fintech companies remain very strong. According to the data presented by Finnovating, the total volume of investments surpassed the €3 billion mark in Q2 2019, with a 31% increase quarter-on-quarter. From €2.32 billion invested in Fintech companies of Q1 to €3.05 billion invested in Q2. By analyzing the evolution which occurred during the second quarter, we can see that June was the month with the highest level of deals completed (49), even if it was the month with the lowest amount of total investments – €748 million, against the €910 million of May and the €1.39 billion of April, a figure that has had a direct impact of a mega-round of €900 million raised by Wirecard, a Munich-based internet technology and financial services provider, in that month.
Other biggest rounds of funding closed in the last three months have been raised by these companies: Greensill, a lending company providing working capital finance to companies, that received €630 million in a round led by Softbank; Checkout, a leading international provider of online payment solutions that received an investment of €177 million from primary investors, including Insight Partners, Endeavor Catalyst and Blossom Capital among others; WorldRemit, a money transfer service available in over 80 countries, that closed a €157.5 million round, from investors including Accel and Leapfrog Investments; Monzo, a digital, mobile-only bank, that received €113 million from a group of top investors, including Y Combinator, Latitude and General Catalyst. These and also other larger rounds have made a big impact on the total of the investments in the period, with the top 10 funding rounds representing 74% of the total volume.
Interestingly enough, the chart below shows that almost half of the total investments are still for UK fintech startups, despite all the political tensions and issues attached to that. The only European country that comes close is Germany, surpassing the €1 billion mark for the first time, but largely thanks to the Wirecard mega-round. France, Denmark and Sweden close the top 5 of EU countries by number of investments.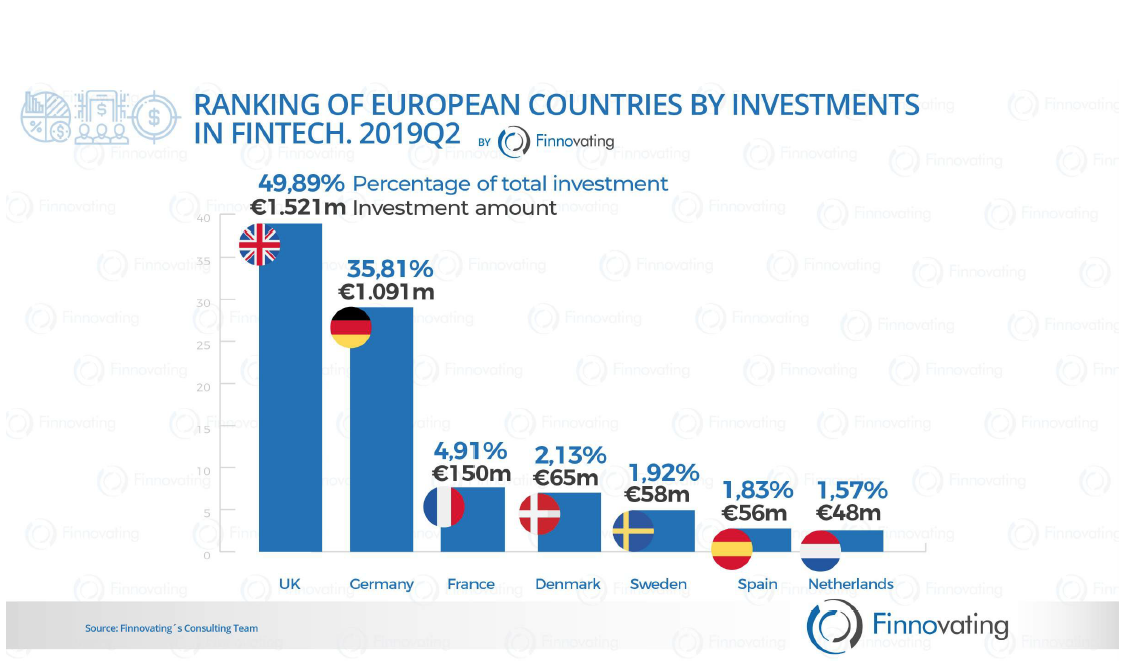 Source: FinTech Investment Europe 2019.Q2 report by Finnovating
Regarding the 'verticals', the winners, in this case, are the payments' startups, having received the highest number of investments (12.61%), followed by lending, tax & accounting solutions, personal finance management and data aggregation companies. If we analyze the distribution of funding rounds per range of investment (see the chart below), we can see that, that despite the growing trend of increasing number of mega-rounds, 60% of the funding rounds are under 5 million.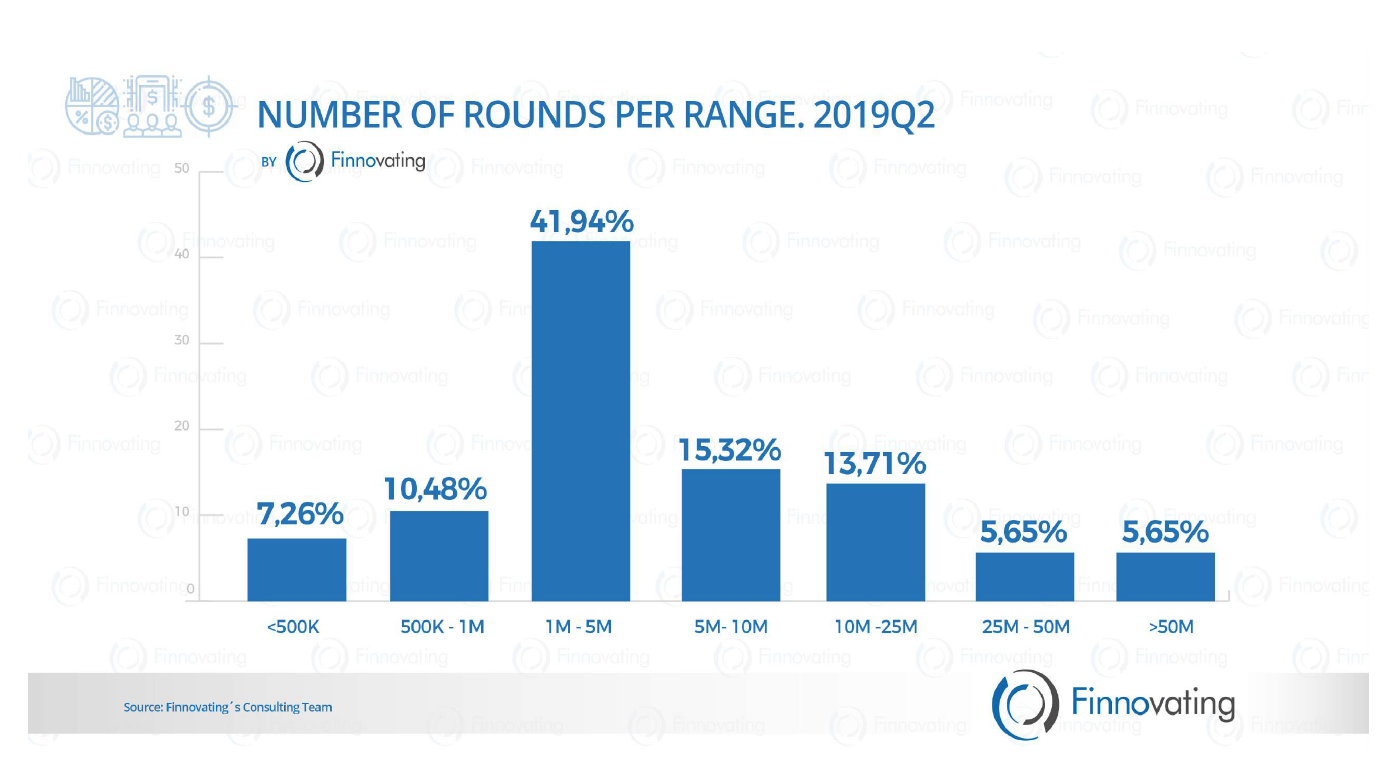 Source: FinTech Investment Europe 2019.Q2 report by Finnovating
If you are willing to learn more here's the full report prepared by Finnovating.
Do not hesitate to share this article!