With wages down and unemployment sky-high, socking away extra cash might seem like a catch 22. In the UK, the number of Brits to file for unemployment in April soared 70% to nearly 2.1 million, reflecting the largest increase in history. People are working fewer hours, and the government has had to swoop in with wage subsidies for millions of jobs, furloughs that are set to begin dwindling in August.  According to Ernst & Young partner in Baltic States Guntars Krols, no European economy has gone unscathed from the COVID-19-fueled economic crisis. Were it not for government subsidies in Latvia, the unemployment rate would be much worse than it is. 
Like the image below posted by Twitter account @ainemunro17x, saving money during the pandemic could seem like a lost cause. But with the right tips, tricks and tools, it doesn't have to be that way.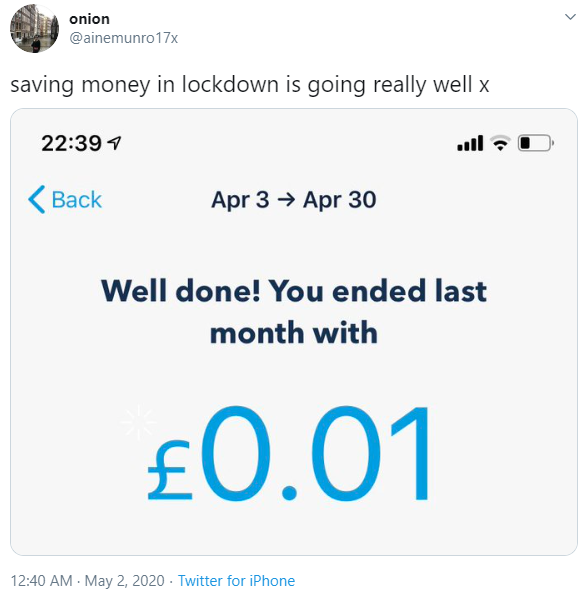 Brits Are Saving Money Already
If you are looking for ways to save money, you might want to look to the UK. Brits have been flocking to savings plans throughout the pandemic and keeping their household spending in check.
Nigel Green, who is at the helm of financial advice firm the deVere group, told The Independent that his company experienced nearly a 30% rise in savings-related inquiries in March. In fact, estimates suggest 60% of Brits have managed to sock away money during the pandemic.
Meanwhile, in what is being described as an "isolation economy," the consumer spending pendulum has swung to the opposite direction, as people are on track to dole out more than $13 billion annually for groceries, alcohol consumption and entertainment budgets. Overall, Brits are contributing close to GBP 18 less each month, on average, to the economy during COVID-19.
And with travel restrictions and lockdowns still in place in many countries around the world, there are plenty of opportunities to save. In fact, families could have saved as much as GBP 900 so far in the pandemic with the money they would have otherwise spent on hotels, holidays and transportation.
Let's explore some of those ways you can save during the pandemic and not skip a beat in your finances.
Budgeting: Rebates and Returns
You  may find that sometimes you have to hunt for the savings, while other times it will be handed to you seemingly on a silver platter. Households and businesses alike have been hit by the crisis, and the overarching theme appears to be that everyone is in it together.
Many businesses deemed non-essential have been forced to overhaul their operations or temporarily close their doors. As a result, it's not unusual during the crisis to hear about companies that are suspending billing or offering some type of credit. For instance, website company Weebly waived the subscriber fee during the month of March, and customers who paid early received a nice surprise when they were offered a refund.
Entertainment Budget
Just because saving is the topic du jour doesn't mean you'll have to sacrifice entertainment. Everyone from musicians to artists have turned to live streaming as a result of the lockdowns that have been implemented during COVID-19.
As a result, you could watch a live concert online from the comfort of your own home while performers like country music star Miranda Lambert, as pictured below, practice safe social distancing measures as well.
Comedians and artists are taking a similar approach. You can find a list of upcoming streaming events — from theater to travel to music to fitness and more, including virtual tours of popular museums — on TimeOut.com.
If you're fortunate enough to live in the Baltic states, you might not have to only watch travel videos to get the experience. That's because the Baltics have been out front in reopening their borders to travel, albeit on a limited basis.  Estonia, Latvia and Lithuania have created what's being dubbed a "travel bubble" in which each of these three countries has opened its borders to the others for travel.
Source: @Skvernelis_S
Government Help
It's also no surprise that governments have been handing out stimulus funds left and right to businesses and consumers alike. This is largely as a result of the fact that people have been left without an income through no fault of their own but also to help prop up the economy during this difficult time. As a result, you  might just find that your local government is offering some type of subsidy on services such as auto insurance.
This is no time to be embarrassed or, for argument's sake, prideful. Remember it's only temporary. Be sure and take advantage of any benefits that are being offered to you, even if you have to inquire about it. And while it may just be a partial credit, combined with other rebates and returns it could add up.
In the UK, the government is offering a payment holidays for mortgage holders who are struggling as a result of the pandemic. It is designed to provide relief from interest fees, money that you could instead direct toward savings, if possible.
Evaluate Expenses
You may have heard this piece of advice before, and that's to cut out subscriptions that you're not really using anyway or that are duplicates in your household. But apparently not everyone is following this recommendation. According to the UK Citizens Advice Bureau, Brits throw away an average of GBP 640 annually on subscriptions that they don't need.
Another thing to consider is your food bill. While ordering a food delivery service such as Uber Eats is convenient, it can be a surefire way to get you off your budget if you're not careful. Cooking your own meals is a more economical way to do things and is likely to free up more money that you could use to grow your savings. On the flip-side, grocery delivery services can be a real time saver and oftentimes you'll find they offer hefty discounts for your first purchase.
Also, if you haven't noticed, oil prices have fallen to unprecedented levels during the pandemic. This could be a good time to switch utility providers if you can find a better rate. Depending on whether you want to use a traditional oil and gas provider or a green energy supplier, the savings will vary but it could be worth it to shop around and see what savings you can achieve. According to The Guardian, households could save as much as GBP 300 per year thanks to rock-bottom tariffs.
Another subscription you can likely negotiate is your gym membership. While some fitness centers have shifted to online videos and classes, their equipment is no longer available for you to use. If the company hasn't halted payments during the pandemic already, then it's a perfect opportunity for you to contact them and request a refund for the months that the facility has been closed.
These are just a handful of examples in which you see where you can identify some cash and direct the funds either into a savings or investment account, such as a peer-to-peer investment portfolio where you can earn returns.
If you run into any trouble getting a refund that you're entitled to, chances are you've got some recourse. In the UK, the Competition and Markets Authority (CMA) has set the holiday accommodation sector in its sights as part of its broader probe into cancellations and refunds. After consumers complained about accommodation sites operator Vacation Rentals to the CMA's COVID-19 Taskforce, the company agreed to overhaul its policy and offer refunds to customers whose trips were cancelled.
US-based Financial Gym recommends these four savings tips before you invest during COVID-19. We'll explore investment savings a bit more below.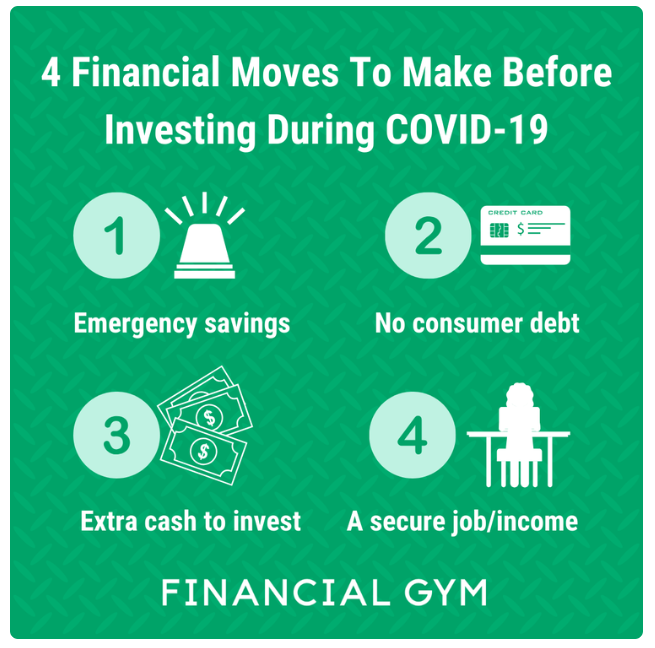 Source: Financial Gym
Peer to Peer Investing
You could find some investment opportunities in peer-to-peer (P2P) investing that would prevent a lull in your savings. If you are successful, profits could go toward whatever milestone you're saving for, such as buying a new home, retirement or something else. While global stock markets have taken investors on a wild roller coaster ride of late, P2P investing has delivered solid returns for those who do it right.
According to Neil Faulkner, editor and chief researcher at UK-based 4thWay, the secret is to have a diversified portfolio of P2P loans, and to not put all of your eggs in one basket, so to speak. He suggests lending through between six and a dozen P2P accounts and IFISAs across a high number of loans.
Faulkner warns that selling P2P investments as a knee-jerk reaction to the current economic environment to stock up on toilet paper, for instance, is a sure-fire way to make mistakes. He says that for investors, it might be tempting to flee before you've had the opportunity to generate enough interest or the P2P platform on which you're lending can right the ship from COVID-fueled defaults. Doing so, however, could lead to unnecessary losses.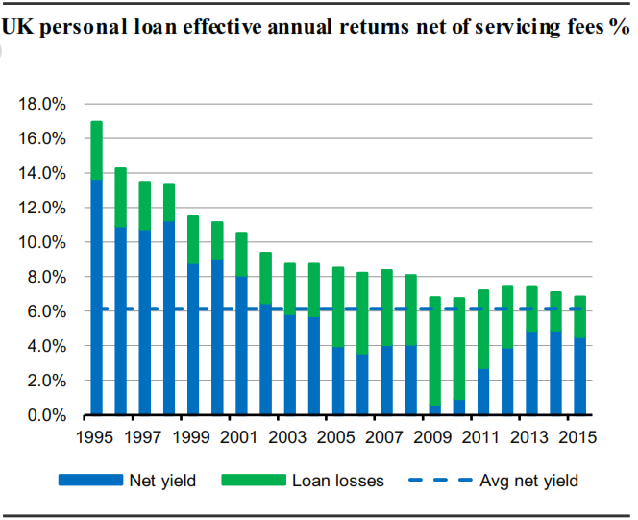 Source: 4thway.co.uk
While P2P lending only came on the scene in 2005, COVID-19 is not the first economic crisis it has experienced. Faulkner describes how during the financial crisis of 2008/2009, things were looking similarly sad. The industry experienced a rise in loan defaults in that period, which made investors nervous. He advised a friend to continue adding cash to the P2P platforms and lending. Looking back, he describes it as a "blip" in the portfolio, lower returns during the crisis notwithstanding.
Meanwhile, though stock markets around the world tend to be extremely volatile during times of great uncertainty, historically they manage to recover and regain bullish momentum, as illustrated in the chart below.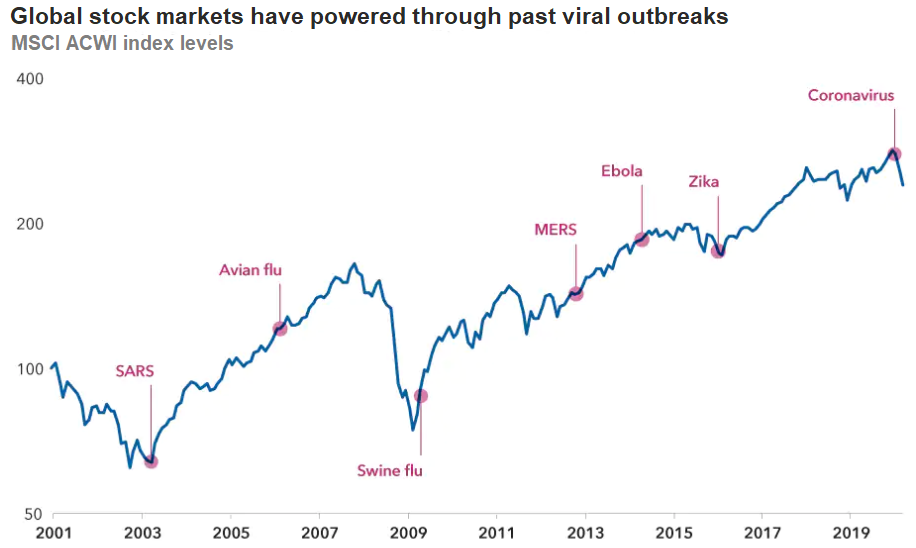 Source: 4thWay
Savings Apps
You might also consider using a mobile investment app to help build your savings. According to Bankrate, Acorns is the top investment app for saving money for its ease of use. The way it works is you link your debit or credit card that you use for everyday purchases to the app. Acorns then rounds up your purchases and directs the difference in the amount into an investment product known as an exchange-traded fund (ETF). While Acorns is popular in the US, if you're in the UK, you might want to check out the Moneybox app, which boasts a similar round-up feature.
Regular Savings Account
As the name suggests, regular savings accounts give you the opportunity to build savings as long as you meet a minimum monthly deposit threshold. According to Martin Lewis, founder of MoneySavingExpert, you can earn as much as 2.75% interest on the money you have in savings. It's a far cry from last year's rate of 5%, but it still beats the returns you'd get from a traditional savings account.
To qualify for the rate, which generally remains in place for one year, you must meet certain qualifications, such as keeping withdrawals to a minimum and maintaining regular monthly deposits. Also, and here's what could be a deal breaker for some, the banks that pay the top rates require you to also have a current, or everyday, account with that financial institution.
Lewis outlines the rates that some of the top-tier banks are paying. To score the highest return of 2.75%, you should also have a current account at First Direct or HSBC, while M&S Bank will pay that rate to customers who made the switch to their bank. Over at Club Lloyds you can earn 2% as long as you have an everyday account with the firm.
Mountain of debt
Credit card debt is one of those things that can hang around like a bad penny. You want to get rid of it but somehow you keep stumbling over your own decisions. But if you manage to knock out some of that debt, it will free up some of your income that you can direct toward your savings, whether it be in investments,  a high-yielding savings bank or even under the mattress if you prefer. You might also realize the importance of having an emergency fund now more than ever, as the government subsidies, rebates and returns won't last forever.
One strategy for lowering your credit card debt, though it will require patience, is to round up the minimum amount due each month and pay that. This will help you to reach a zero balance sooner so that you don't have to throw it away on interest. Also, this method is only useful if you also cut down on your credit card spending.
Consignment Trend
This one might not be for everyone, but there is an online market for used clothing that gives you an opportunity to purchase brand names for less money. Whether it's Poshmark, TheRealReal or some other platform, you could surprise yourself and discover high quality items without having to fork over a fortune for them. Or, if you'd like to use your business savvy and generate more money for savings during the COVID-19 pandemic, you could take items from your own closet and put them up for sale on these sites.
Refinance Your Mortgage
In case you haven't noticed, the global economy is in an extremely low interest rate environment lately, one that is expected to persist for the near future. Doug Whiteman, editor in chief at MoneyWise, suggests doing something productive during the pandemic that will help save you money. With the average interest rate hovering at just 3%, as per a lender poll, there has never been a better time to refinance your mortgage and slash your housing expenses, whether you've got a fixed or variable rate.
Mortgage data from Black Knight reveals that 14 million homeowners are in a position to refinance their mortgage, which would lead to a combined savings of nearly USD 4 billion per month, or close to USD 300 each month per household.
The thing you'll want to find out is if you're included among those mortgage holders who are in that sweet spot to refinance. For instance, some lenders will penalize you for prepayment, especially if it's early in the term of the loan.
If you meet the following criteria, you are on the right track to refinance your mortgage:
Your mortgage has a 30-year term;
Minimum equity of 20% in your house;
You have good credit. Lenders have become more stringent during the COVID-19 pandemic to stave off defaults.
Reassess Your Career Path
If you find that you don't have any income to direct toward saving or investing during the pandemic, now could be a good time to reassess your career. With time on their hands, more people are using the pandemic as an opportunity to figure out any long-term changes they'd like to make in their lives, from working from home permanently to switching career paths.
While the specific direction you take is up to you, there are some industries that are hotter than others in the wake of COVID-19. Take the gig economy, for instance, which employs nearly 5 million people in the UK. As more companies integrate online, whether it be for food delivery or something else, one common theme is mobile apps and e-commerce. As a result, demand for information technology (IT) services is expected to remain in high demand. In fact, IT contracting is growing in popularity, giving companies an opportunity to hire for individual projects rather than adding to the full-time payroll. This is yet another way for you to participate in the gig economy.
Income Status
Your strategy for saving during the COVID-19 crisis will depend largely on your personal situation and whether you have been able to continue working and earning a paycheck during this difficult time. Obviously for someone whose income has dried up, you'll want to focus on pausing as many payments as possible and taking care of the essentials. But once the jobs return and the economy comes roaring back, that is the time to get back on the horse and continue with a budget that includes saving money and investing for major milestones like home ownership, retirement, etc. when possible.
If you have been fortunate enough to continue earning during COVID-19, consider directing any stimulus funds that the government sends your way toward your savings and investments.
Do not hesitate to share this article!