European financial institutions are now facing challenging times. With new game-changing regulations like PSD2 and MiFID II entering into force, open banking is no longer a utopia. New rules are going to cause a shock for financial incumbents that are not prepared to embrace innovation, adding up some considerable competition from fintech startups and more established firms that will definitely take advantage of new geographies and lower barriers to enter the market.
An option to keep up with the speed of the development of industry is to invest in fintech, but almost all major banks now say they are intentioned to bet on financial technology and digital innovation, as well as agree that digitalisation is a key action to increase their competitiveness (90% of banks says that digitalisation is a priority). So, which are those banks that are willing to invest in fintech?
To answer that question, we looked for an extra information provided by CB Insights. Researchers has recently analyzed the private market investment activity by European banks in the fintech industry, discovering that in the period considered, from 2012 to Q2 2018, it's the Spanish banking giant Banco Santander, mainly through its venture arm Santander InnoVentures, that has been the most active financial institution in the EU in terms of fintech investments. Banco Santander made a total of 23 investments into 19 different fintech startups, 8 of those just in the last five quarters, with the $135M Series E of the P2P lending platform Kabbage that represents the most significant investment in which they participated.
After Banco Santander, the three most active banks have been Credit Suisse, UBS, and Barclays, with various investments in lending, reg-tech, and wealth management solutions, as well as data analytics, in the case of UBS and Credit Suisse. The most attractive fintech topic for investors is the Capital Markets software and technology solutions, with Symphony, a cloud-based communication and content sharing platform valued more than $1 billion, that got the highest investment participation with a $67M Series D completed in the last quarter. On the other hand, less interest was showed for blockchain, when Credit Agricole made the only one investment in the previous 5 quarters.
A ranking of the fourteen most active financial institutions, with names of all fintech startups where they have invested, is shown in the graphic below: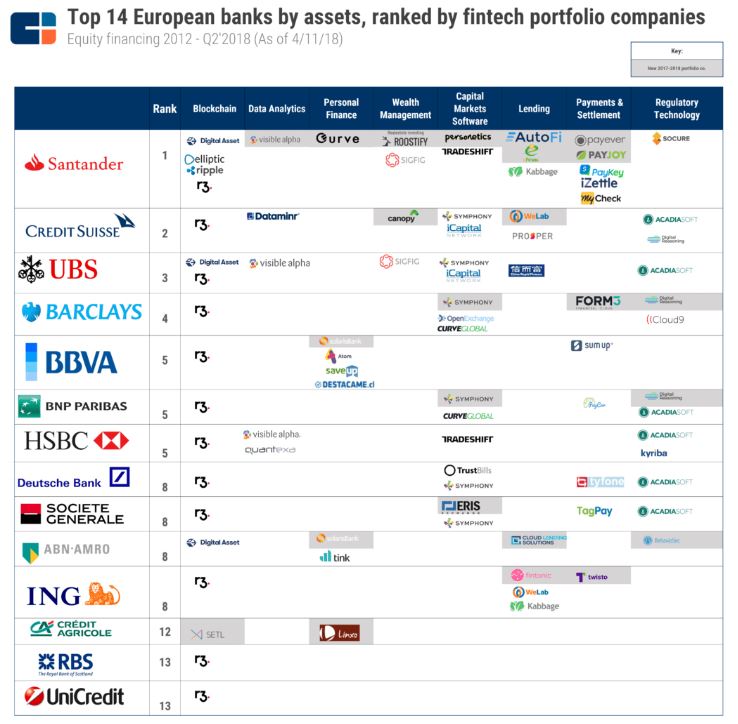 Source: CB Insights https://www.cbinsights.com/research/europe-bank-fintech-startup-investments
A fact worth to highlight is that WeLab, a fast-growing lending company, has received the most significant investment of those involving the banks considered, with the successful raise of a $220M in Series B-II in the last quarter of 2017, where both ING and Credit Suisse have participated with their capital. While the firm that received most co-investments from the entities considered is R3, an enterprise software firm working with a large network of banks, financial institutions, regulators and tech companies, to build a blockchain platform designed specifically for businesses. They raised a $107M round in the second quarter of 2017 with the participation, among others, of HSBC, Barclays, Credit Suisse, BBVA, BNP Paribas, Société Generale, Deutsche Bank, Royal Bank of Scotland, UBS and ING.
Do not hesitate to share this article!