Looking at the trend of the last two years when financial institutions have started investing big money in fintech firms all around the globe, hence significantly increasing the number of mergers and acquisitions (M&As), it really seems this could be the boom year. Seeing banks and large financial institutions investing in and acquiring financial technology companies appears quite natural when in the recent past they have not been able to keep pace with fintech newcomers and with the needs of their own customers, despite of their efforts to modernize their services and develop digital innovations internally.
To understand the scope of the change that has occured over the past years, keep in mind that the largest banks of the US have acquired just 18 fintech startups from 2013 until two years ago. In 2017 the number of acquisitions started to quickly speed up, reaching the highest number of such acquisitions ever recorded. And that apparently was just the start of a bigger acceleration.
Reed Smith and Mergermarket recently published a study where they found that 94% of banks and financial institutions, as well as 91% of fintech-focused investors, are now planning two or more fintech acquisitions in the next 12 months.
"There isn't a significant financial services institution that isn't already either a consumer or developer of fintech, […] I think it's on the radar of every major institution because they're at a competitive disadvantage if they're not as well positioned as their competitors to adopt new technologies." said Herb Kozlov, a partner at Reed Smith.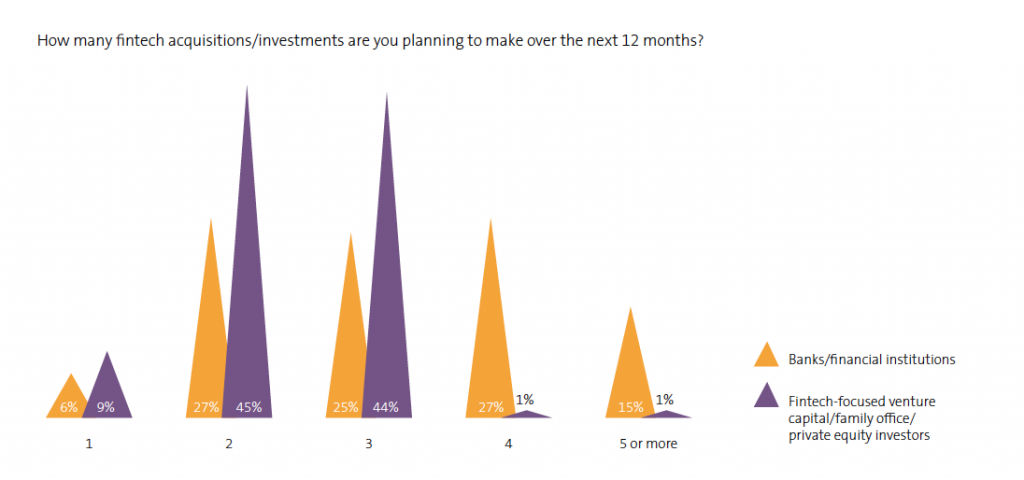 Source: "Tech control: How fintech M&A is shaping the financial future" by Reed Smith and Mergermarket
Germany and the UK are the two markets where most of the acquisitions have happened. Meanwhile Singapore, thanks to generous investments and  progressive approach towards financial technology development demonstrated by country's government, and a monetary authority, was one of the first in the world to implement a fintech regulatory sandbox. China is also yet another considerable player on the global scene of fintech, which also looks like the place where we'll witness more acquisitions and related activities in the industry.
In terms of  trendiest technologies, the report reminds us of well-established presence of robot-like elements in the industry: "There has been a lot of adoption of machine learning and AI in the investment and payment spaces. I think that payments are really moving to machine learning as well as blockchain." said Maria Earley, a partner at Reed Smith.
In the year that's still ahead of us, fundraising for fintech firms is expected to increase substantially, once again. Also, an increase of interest for data analytics companies is expected, alongside of higher valuations for various blockchain companies focusing on cryptocurrencies.
If willing to find out more, you can download the full report, "Tech control: How fintech M&A is shaping the financial future", from here.
Do not hesitate to share this article!