Peer-to-peer (P2P) lending has already made its mark on fintech. It's taken market share from banks and inspired companies like KeyCorp, which has USD 138 billion in assets, to overhaul its consumer lending platform to stay relevant. In fact, Ron Suber, who is known as the Godfather of Fintech, told American Banker that Key needs this upgrade to go head-to-head with the likes of fintech and Amazon.
Now the P2P model is spilling over into other industries, from e-commerce and payments, to the auto sector and transportation. Let's explore some of the latest developments.
Amazon's Alexa
Amazon has already disrupted the e-commerce industry, and banks have nervously been awaiting the online retail giant's next move in financial services. According to The Wall Street Journal, it could be voice activated person-to-person (P2P) money transfers fueled by its home robot device Alexa.
Such a move could cut into the market share of global payment platforms Visa and Mastercard, not to mention payment apps like PayPal's Venmo, which was responsible for USD 17.6 billion in person to person payments in 2016. Consumers as a whole transacted more than USD 147 billion in P2P payments in 2016, as per Aite Group cited in the WSJ.
Amazon's voice activated P2P app would let you ask Alexa to send a payment to a friend, which means that Amazon would likely need access to banking information. Amazon has already tilted its hand to a possible checking account product in partnership with JPMorgan, which could play a part in the P2P app.
The company already has Amazon Wallet, and it recently placed that business under the same umbrella as its Alexa division. Meanwhile, all eyes are on technology companies and data security amid the US congressional hearing taking place this week with Facebook's Mark Zuckerberg in the hot seat.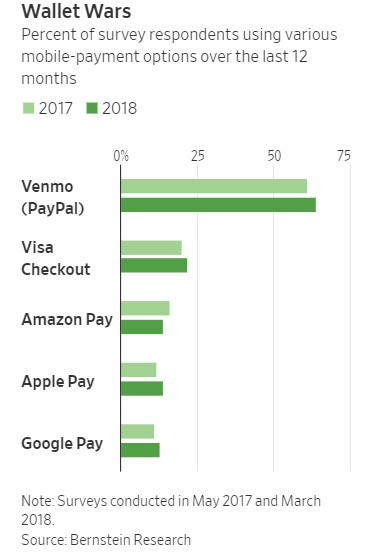 Courtesy: The Wall Street Journal
General Motors
Switching gears to the auto sector, General Motors according to reports plans to test a P2P car-sharing service in the summer of 2018 that would go head-to-head with the likes of San Francisco-based Toro, another P2P rental-fueled ride-sharing marketplace that's already taken share in the United States and Europe.
The way it works is, car owners who are willing to rent out their vehicles rather than let their car just sit in the driveway when they're not using it would register the vehicle on GM's Maven platform (which incidentally already is in partnership with Uber and Lyft drivers.) Licensed drivers in need of a set of wheels would be matched to the vehicle, and the profits would be shared between the car owner and GM.
GM's advantage is in its many car owners, but its ability to tap into the P2P ride-sharing market is unclear. But with so much on the line, GM doesn't want to remain on the sidelines of a market that's forecast to be valued at USD 2.2 billion in the next 12 years.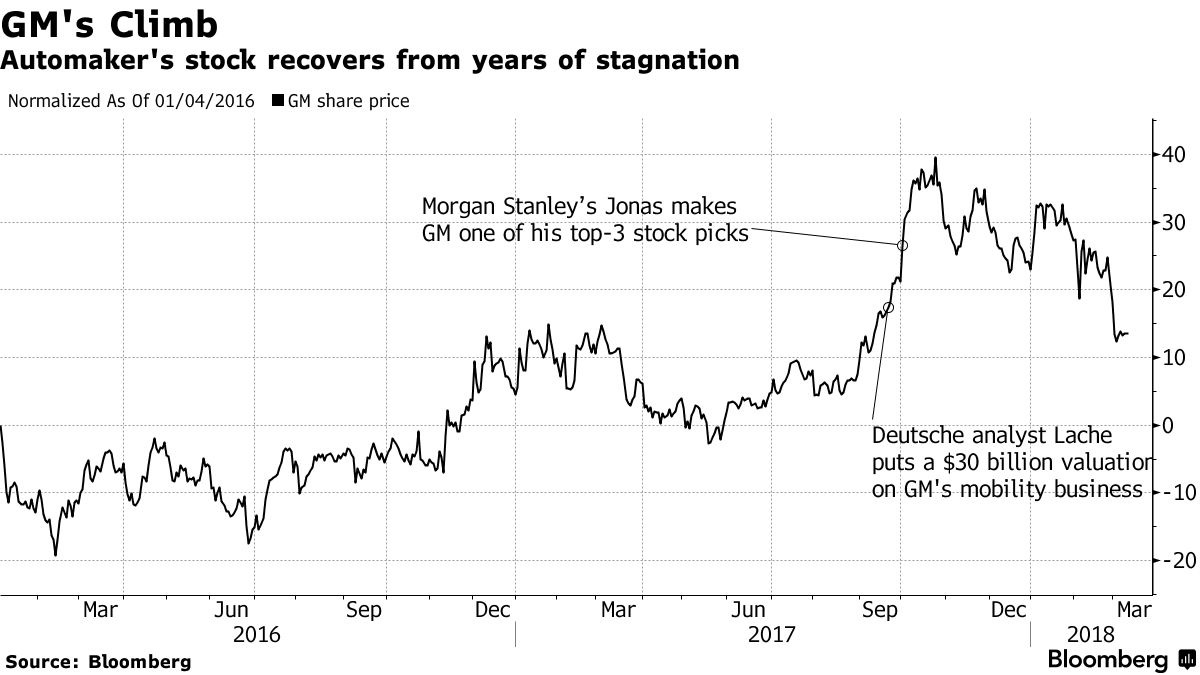 Courtesy: Bloomberg
FedEx
Package delivery giant FedEx is taking a different tack, having made a recent acquisition to make its splash in the digital marketplace. FedEx acquired UK-based e-commerce play P2P Mailing Limited in a GBP 92 million deal. P2P Mailing Limited focuses on the "last mile" of cross-border deliveries for e-commerce retailers across 200 countries.
The P2P aspect is Mailing Limited's local relationships with entities such as "private, postal, retail and clearance providers" that give it a local presence in markets around the world. P2P Mailing Limited has similarities to Alibaba's Cainiao, reports suggest, which matches logistics service providers to deliver products that are sold on Alibaba's e-commerce site.
Spillover Effect
While all three companies are taking a unique approach to the P2P market in their respective industries, their investment in this model signals a shift in some of the more traditional sectors both to digital and closer to the sharing economy.
Amazon already has the lead for digital, but it's push toward a P2P payments platform could inspire its competitors, such as Google with its home assistant device to make similar moves. Automaker GM could similarly push competitors like Ford to adopt a ride-sharing model, while FedEx's expansion into e-commerce is likely to set a fire under the feet of UPS and DHL.
Do not hesitate to share this article!