The Fintech Action Plan published by the European Commission earlier this March with an aim to ensure more competitive and innovative financial sector will bring positive changes for everyone in fintech. This action plan indicates that the EC considers digital innovation as a key driver for the development of financial services in Europe.
The Fintech Action Plan is a 23-step roadmap that among various other things listed below also contemplates the set up of an EU Fintech Laboratory, an EU Blockchain Observatory, and Forum, as well as the creation of a blueprint with best practices on regulatory sandboxes and updated crowdfunding regulation.
When the EC presented the plan, Valdis Dombrovskis, Vice-President for Financial Stability, Financial Services and Capital Markets Union, resumed the aim of it pretty well by saying: "To compete globally, Europe's innovative companies need access to capital, space to experiment and scale to grow. This is the premise for our FinTech Action Plan. An EU crowdfunding license would help crowdfunding platforms to scale up in Europe. It will help them match investors and companies from all over the EU, giving more opportunities for firms and entrepreneurs to pitch their ideas to a wider base of funders."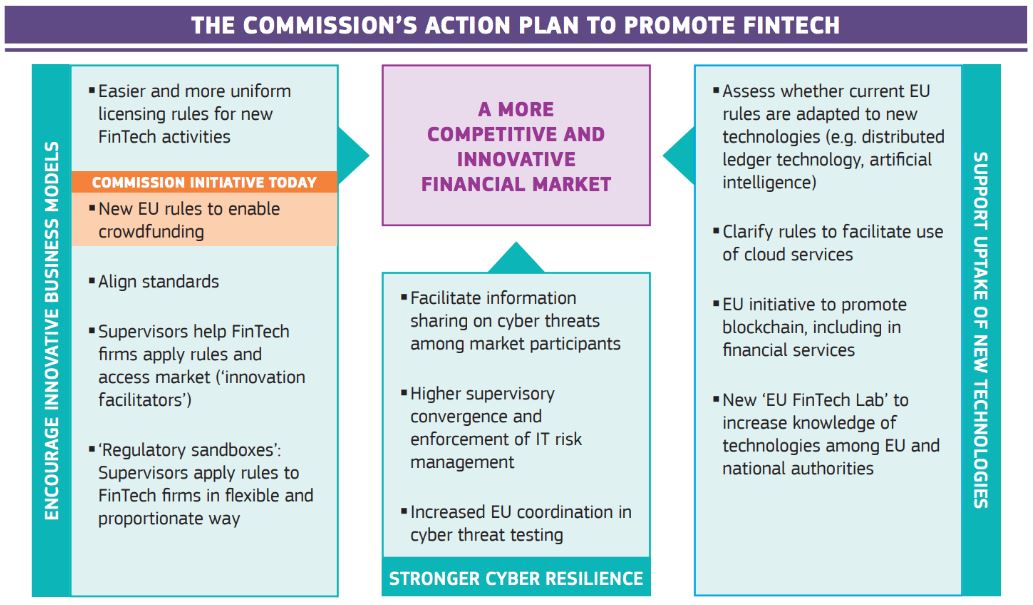 Source: European Commission's Fintech Action Plan Fact-Sheet 
The EC initiative has been perceived slightly positively by both fintech companies and financial institutions. "To fully unlock the potential of fintech we need a European ecosystem that lets financial services providers, old and new, be competitive, also on a global scale. This requires truly effective cooperation between national authorities. The Commission needs to serve as a catalyst so that we can ignite this cross-border fintech ecosystem with a flourishing digital single market. Only a real single market that is solidly underpinned by innovative, secure and reliable financial services can secure the jobs and growth we want." said Wim Mijs, CEO of the European Banking Federation (EBF).
New Regulation for Crowdfunding with a Passport for Platforms
Despite the good progress made in the last few years, also at a regulatory level, for European crowdfunding platforms, it is still complicated to expand internationally, even inside the EU, because of the conflicting rules between the member states. The result is an apparent limit on the development of the crowdfunding market in the region. The EC proposal aims to solve this and other problems that are causing frictions in the market.
Here are the three main problems, with the proposed solutions, that have been identified by the European Commission:
Problem: Diverging national rules hinder cross-border crowdfunding services
Solution: EU-wide passport enables European crowdfunding service providers to operate under same rules
Problem: Lack of information that leads to low investor trust
Solution: Developing a standard investor protection regime
Problem: Lack of transparency on the project and financial product sold (e.g., loans, shares) leads to poor financial decisions
Solution: A simple template for disclosure of key characteristics
A 23-Step Fintech Action Plan
While a bigger and better working crowdfunding market will be important for opening up the access to capital in the future, it is not the only action that the EC plans to take for a more innovative financial market. The Action Plan sets three key objectives, which are supporting the uptake of new technologies, encouraging and supporting innovative business models across the EU, as well as strengthening the cybersecurity of the financial system.
In addition to those listed above, some of the primary initiatives to reach these objectives are: a new "EU FinTech Lab" to raise the general knowledge about financial technologies among EU and national authorities, an increased coordination at EU level on cybersecurity testing and the facilitation of sharing information among fintech players about cyber threats, more uniformity on the licensing regulations for new fintech activities, aligned standards and the introduction of regulatory sandboxes and of innovation supervisors to help fintech firms to navigate the regulations and to facilitate the access to the market.
If you are interested in learning more, you can explore the official paper from the Commission here.
Do not hesitate to share this article!