It's the age-old question, yet with each rising generation it never loses its luster: How much money do you need to retire? The answer comes down to several factors, ranging from the type of living you earn, the size and diversification of your investment portfolio and/or pension scheme, and the lifestyle you seek to maintain following your career swan song. It's very likely that in addition to any pension-related income you may be entitled to that you may want to bolster your retirement savings through additional streams such as peer-to-peer (P2P) investing.
When most people think about retirement, they dream about doing the things they love the most in life, whether it's relaxing on the sandy beaches of Portugal, playing your best golf in South Ayrshire, Scotland, or staying in the hustle and bustle of London. The new year is the perfect time to examine your retirement goals and make sure that your investment portfolio is on the right track to get you there, no matter if retirement is decades away or right around the corner.
Of course, things have never been so complicated before. On the one hand, people are living longer than ever, which is great. On the flip side, a higher life expectancy translates to higher healthcare costs that can cripple retirement plans if you're not ready.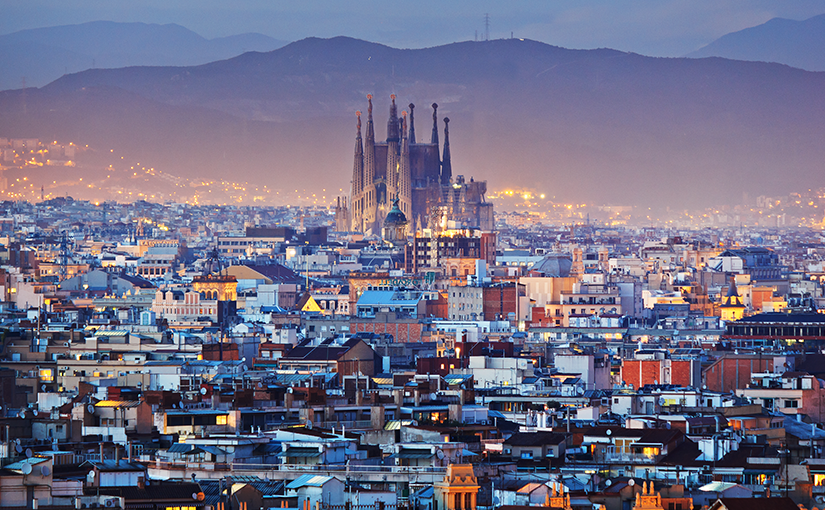 Barcelona, Spain | Source: Adobe Stock
Many of the decisions that you make today will pave the way for your golden years. Therefore, the question, how much money do you need to retire' is one that everybody should ask themselves. It's no wonder that retirement savings is a topic on the minds of Europeans, considering the following stats, according to an ING survey:
More than two-thirds of Europeans with zero savings in their households believe they can't afford to save money.
Nearly two-thirds of Europeans, or 61%, are afraid they won't be prepared for retirement.
More than half of Europeans find themselves running out of money before their next paycheck.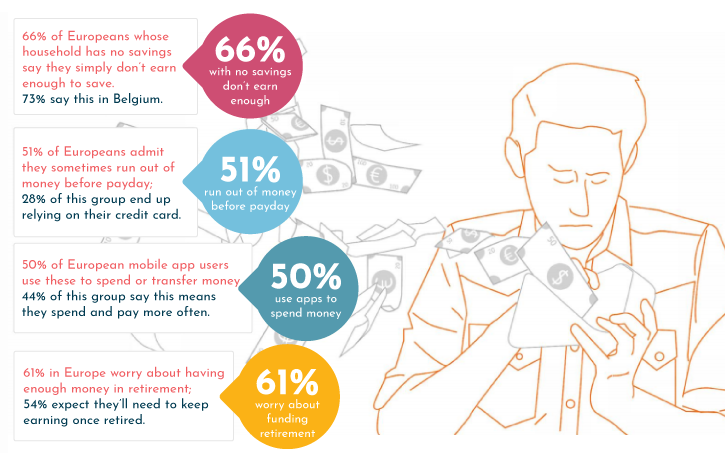 Source:  ING 
If your retirement dream includes "sipping Prosecco on a warm terrace" every day, as described by The Guardian, you might want to think about exploring additional investment opportunities beyond just a pension scheme, such as peer-to-peer investing, which we'll explore in more detail below. Before we address how much money you'll need in your golden years, let's explore the retirement landscape.
European Trends
When it comes to government-fueled retirement programs, Europeans have it pretty good compared to their American counterparts. Government-led pension benefits in countries such as Germany and France are more generous than that of the U.S.' Social Security program. One thing these countries have in common, however, is an average retirement age, which tends to hover at around 65 years old.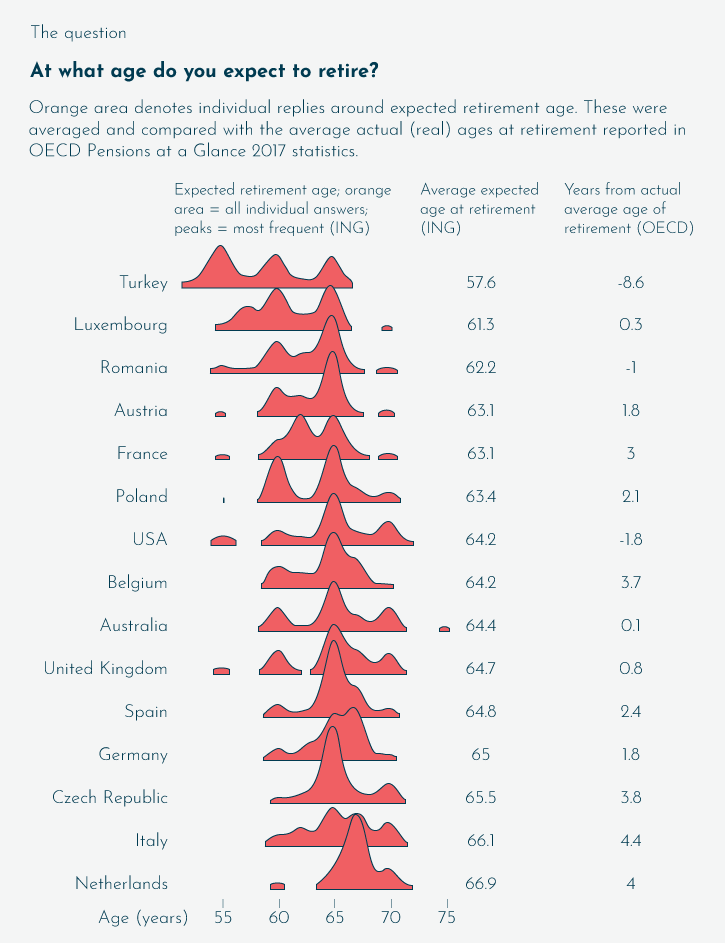 Source: ING
Before we answer the question, 'how much money do you need to retire,' let's explore the path that will likely have a role in getting you there – European pension schemes. Each European country boasts its own pensions plans, which in addition to a state pension are generally split into defined benefit (DB) and defined contribution (DC) plans. Of course, you may have your own private/personal pension plan, which is popular among entrepreneurs.
In a DB plan, the plan sponsor will make investments on behalf of plan members based on employee and employer contributions. In some cases, employees may contribute to the plan too. The size of your DB pension at retirement is linked to the number of years you worked for the company as well as the size of your average salary, and it's the responsibility of the plan sponsor to be sure that the funds are there when it comes time for you to retire.
A DC plan, on the other hand, places the investment responsibility on the shoulders of the plan member (employee). In this case, you direct a percentage of your salary toward the investments of your choice based on a list provided by the plan sponsor, whether it's stocks, bonds, real estate, etc. The employer might also contribute a percentage to your plan. The size of the benefit is dependent on the performance of the investments.
While the U.S. has all but moved away from DB plans and toward DC plans such as 401(k)s, Europe is phasing them out more slowly.
On that note, let's take a look at a few state pension amounts, just to see how important making additional investments will be to have enough money in retirement.
UK – the most that a UK citizen can receive from a basic state pension is GBP 129.20 weekly. Meanwhile, the new state pension payment max is a bit higher at GBP 168.60 weekly.
Ireland – In Ireland, the full rate for the State Pension (Contributory) is EUR 248.30 weekly. To qualify, citizens must be at least 66 years old with a minimum of 48 qualifying years.
Denmark – Denmark's state pension system, dubbed Folkepension, is comprised of a basic amount and a pension supplement. In 2019, the basic amount was DKK 6,327 monthly, rising to DKK 13,250 per month for singles and DKK 9,780 per month for couples with supplemental income.
According to an ING survey, less than one-third of European retirees feel confident they will be able to maintain their pre-retirement lifestyle during actual retirement. Luxembourg bucked that trend, with more than half of those polled, or 53%, agreeing that their current lifestyle would last into retirement.
In Latvia, where the financial services sector is being overhauled, increases are expected in the "minimum retirement pension," reports indicate. Nearly one-third of Latvian households experienced an improved financial situation in 2019, according to a recent survey.
Meanwhile, in Estonia, 50% of people polled expect to have to continue working even after reaching the retirement age to make sure they have adequate income, according to a Swedbank Institute for Finances survey. A trend is emerging in Estonia in which millennials are withdrawing funds from the second pillar of the pension fund and directing it toward real estate investments.
In the U.K., workers only expect that government retirement programs will cover slightly more than one-third, or 38%, of their pre-retirement income, according to the latest data from an OECD poll. As a result, the UK workforce must sock away more money in personal savings and investments or be forced to lower their standard of living in retirement.
According to the ING survey, more than 60% of Europeans are losing sleep over asking themselves, 'how much money do you need to retire,' especially in Spain, France, and Poland.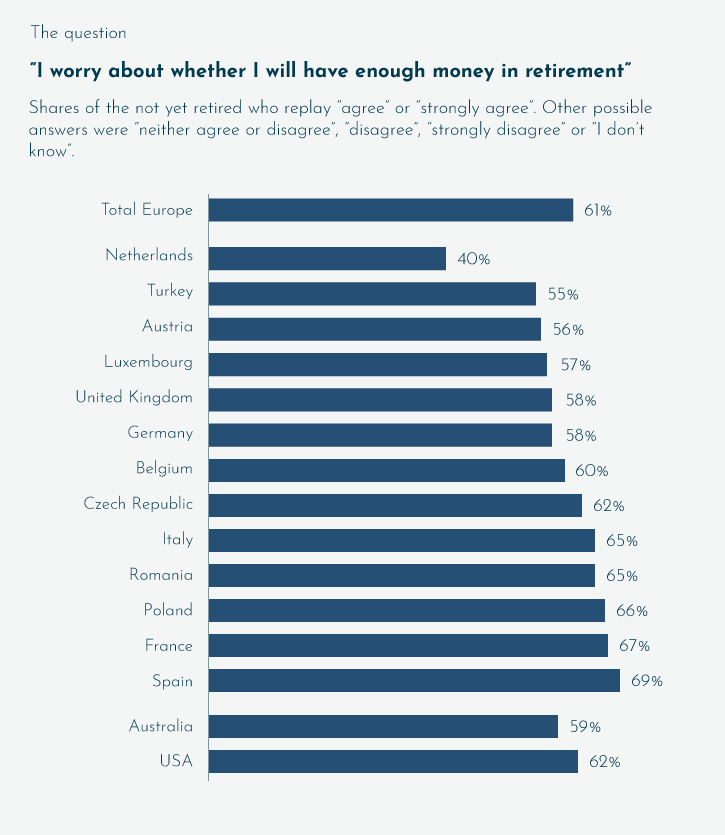 Source: ING
Brexit and retirement
Further complicating retirement in Europe is Brexit, which has thrown a wrench into the plans of some retirees. With the UK set to leave the EU this month, UK-citizens can still enjoy some pre-Brexit benefits until year-end 2020. For instance, UK citizens who move to or retire in the EU prior to the year-end deadline should be able to keep most of their rights, though the specifics surrounding retirement have yet to be negotiated. As a result, some Brits are faced with an additional heap of uncertainty surrounding their retirement plans.
According to Donald and Pat Law, a doctor and a teacher cited in The Guardian, with the ushering in of Brexit, "all EU citizens are set to lose many of the rights to which they have grown accustomed" — including retirement-related benefits. The Laws explained how they have been living in Italy for a little more than a decade and are "retiring on UK-earned pensions prior to the referendum."
The couple, however, saw their income shrink by 20% as a direct consequence of the devaluation of the GBP amid the Brexit vote in 2016. Now they are worried about healthcare in Italy and the uncertainty surrounding whether or not they'll get "annual increases to our state pensions in line with inflation."
They are quoted in The Guardian as stating:
"This should not be a worry for two professional people (a doctor and a teacher) who have paid taxes and national insurance in the UK throughout our 40-year working lives."
UK Retirement Amounts
The answer to the question, how much money do you need to retire, depends also on the type of lifestyle you seek to have as you ride off into the sunset.
If you plan to retire in the UK, you might fall into one of a few different tiers. Based on the latest research by The Joseph Rowntree Foundation, a single individual in basic retirement requires GBP 11,000 annually. This will cover vital living expenses, a week's holiday within the region, and entertainment (movies, mobile, internet, etc.) and also is a guide for the person with no mortgage or rent to pay.
If you'd like to jump to the next tier, you'll need approximately GBP 26,000 per year, according to Which?, a consumer group. On top of basic expenses, this amount will also give you a two-week holiday in a European spot of your choice. It also covers meals and if now's the perfect time to pursue that hobby you always wanted to try, your nest egg should cover this, too.
To really enjoy the high life, however, by taking more frequent holidays and updating your vehicle every half-decade, you're looking at GBP 39,000 annually. Keep in mind these amounts reflect how much money single individuals need to retire, which incidentally is roughly two-thirds the amount that a couple requires for retirement.
Which? did some research in 2019 and found that the average amount retirees spend monthly is GBP 2,200 for each household, which amounts to approximately GBP 27,000 annually. Their higher-end retirement amount is GBP 42,000 each year. Holidays take a big chunk of this amount, commanding roughly GBP 4,800 each year.
Retiring and Healthcare
The Guardian featured the question of a soon-to-be retiree in the UK who was losing his health insurance benefits upon retirement. At 65 years old, he was planning to retire on a pension that would pay him GBP 30,000 per year. To continue benefits upon retiring, he would have to pay between GBP 80 and GBP 250 per month for private health insurance. This is just one example but it shines a spotlight on the challenges that retirees can face regarding healthcare costs. Here are some other regional healthcare costs to consider:
How much money do you need to retire in these hot spots?
Estonia is an increasingly popular retirement destination, according to YouTuber RoninBlue, who launched his channel after digging himself out of debt. He dedicated a video to the highlights that Estonia has to offer, both culturally and financially, not to mention the country's beauty.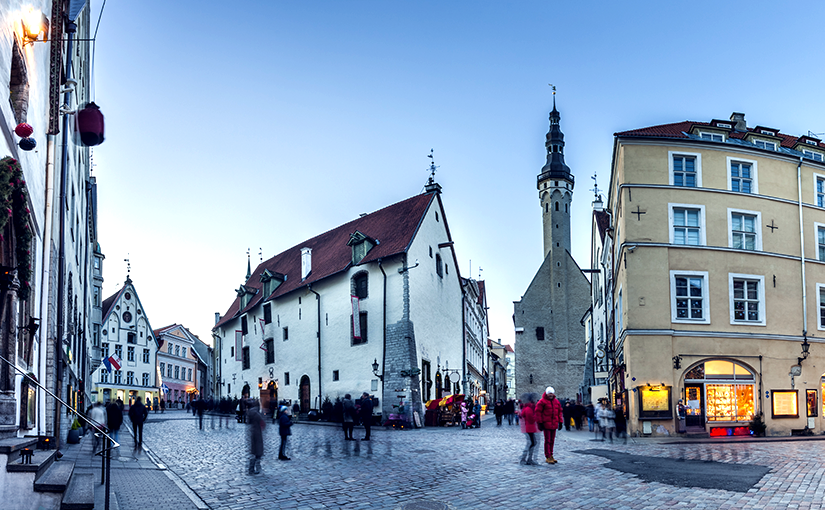 Tallinn, Estonia | Source: Adobe Stock
Here's a breakdown of the basic expenses to retire in Estonia, where the cost of living is considered low –
Meal at a cheap restaurant = between USD 6-USD 11
Meal for two people at mid-range restaurant = between USD 40-USD 67
Apartment basic utilities = between USD 134-USD 285 monthly
Internet = between USD 17-USD33 monthly
Fitness club = between USD 32-USD 67
Rent for a one-bedroom apartment in city center = between USD 448-USD 672
Rent for a one-bedroom apartment outside of city center = between USD 313-USD 504
Value-added tax = 20% (in some cases 9%)
Capital gains taxed as ordinary income, or 20% as of 2018
Foreigners can also purchase real estate in Estonia with the proper approvals.
Retire for less than USD 35,000 per year
Thanks to International Living, we've got a list of the top European locations across Spain, Italy, Portugal, and Malta to retire for less than USD 35,000 per year. Increasingly, North American retirees are making their way to these spots. With that said, let's cut to the chase so you can stop wondering, 'how much money do you need to retire?' Let's take one city from each of the respective countries/island country.
Couples can retire here for USD 2,695 per month, or slightly more than USD 32,000 per year, including rent for a one-bedroom apartment. The city is known for its lavender fields, beautiful squares, restaurants, bars, and intellectuals. With a population of 140,000, Aix historically attracts an eclectic mix of attorneys, artists, and nobles boasting high IQs, and has a reputation for offering the best of what life has to offer.
Couples can retire here for USD 1,985 per month, or slightly less than USD 24,000 per year. With a bustling population of about 330,000, Alicante gives you the best of both words — a seaside town in the summer and cooler temperatures during the winter, which gives the locals a reprieve from the tourists. Pick up a pound of fresh red tuna for USD 7.50 or prawns for USD 4.
Couples can retire here for slightly more than USD 1,600 per month, or roughly USD 19,400 per year. As a city known for its fast cars, Modena gives you the pace of the city with the culture to boot. In addition to being the birthplace of Ferrari founder Enzo Ferrari, Modena is known for its wineries, historic cathedrals, and even a clock tower from the 15th century.  With a population of 175,000, Modena is known as an affluent city with a vast history even though the cost to retire is on the lower end of the range.
Couples can retire here for slightly less than USD 2,100 per month, or roughly USD 25,000 per year including rent. Enjoy temperatures that tend not to dip below 52 degrees Fahrenheit during the winter and hover at a comfortable 75 degrees Fahrenheit during the summer months. With a population of 22,000, Lagos is a popular tourist destination, which helps to fuel the economy and gives retirees plenty of activities to choose from, whether it's golfing, hiking, or water sports on the ocean. Once you retire, you may appreciate the flat landscape that Lagos has to offer, which makes for easy walking.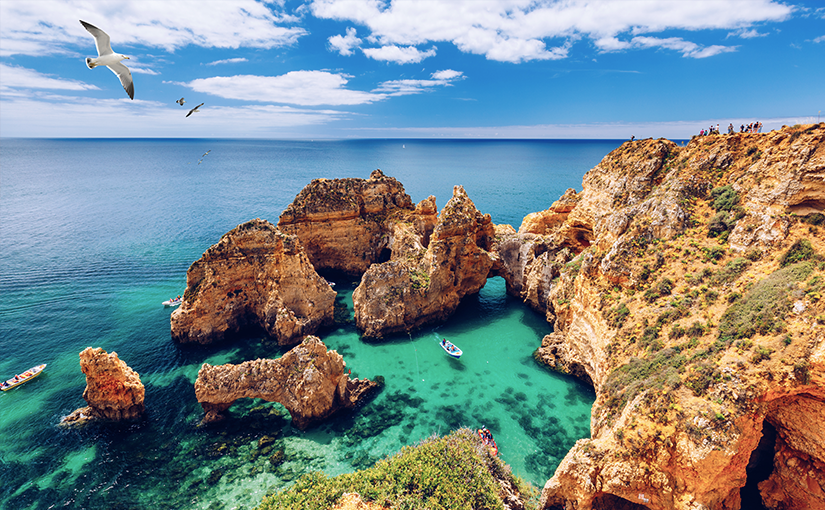 Lagos, Portugal | Source: Adobe Stock
Another report suggests a couple can retire in Portugal for USD 2,200 per month and "live a good life."
Couples can retire here for USD 2,600 per month or slightly more than USD 31,000 per year. As a tiny island nation, Malta boasts more than 150 miles of coastline and storied history, including becoming a member of the EU in 2004. A popular tourist spot boasting a busy port filled with cruise ships, Malta has been compared to San Francisco for its rolling hills — only it doesn't have the same lofty cost of living. As a result, it doesn't require nearly as much money to retire. If that has you thinking about how much it would cost to retire in San Francisco, well, as one of the priciest cities in which to retire in America, you're looking at more than USD 150,000 per year.
Where P2P investing fits into your retirement portfolio
If you're looking at the size of your pension and wondering how to bolster your retirement savings, one asset class that has grown by leaps and bounds in popularity is P2P investing. P2P investing lets you direct as little as GBP 1 to borrowers (pooled with the investments of others), and the returns tend to be higher than that of a traditional savings account. Borrowers similarly find it appealing as they gain access to cheaper loans than they would otherwise be able to receive. In 2018, P2P loans comprised nearly GBP 3 billion. Between 2005 (when the first P2P loan was made) and mid-2019, more than GBP 10 billion in loans have been issued via P2P investing. The risks are similarly higher, as P2P investments don't come with the same insurance as bank loans. But as they say — no risk, no reward.
Do not hesitate to share this article!