When it comes to where in the world P2P lending platforms make the most loans, the answer is the US. Its combination of size, an appetite for borrowing, and seeking new credit solutions are among the reasons why.
Yet many of the fastest growing platforms are in Europe.
We're going to take a look at 2016 loan volumes in the US and across Europe.
The US
By far, the largest US P2P lender is Lending Club. Thanks to their status as a publicly traded company, LC is pretty transparent with what it does and how it is doing. Here is their Statistics Page.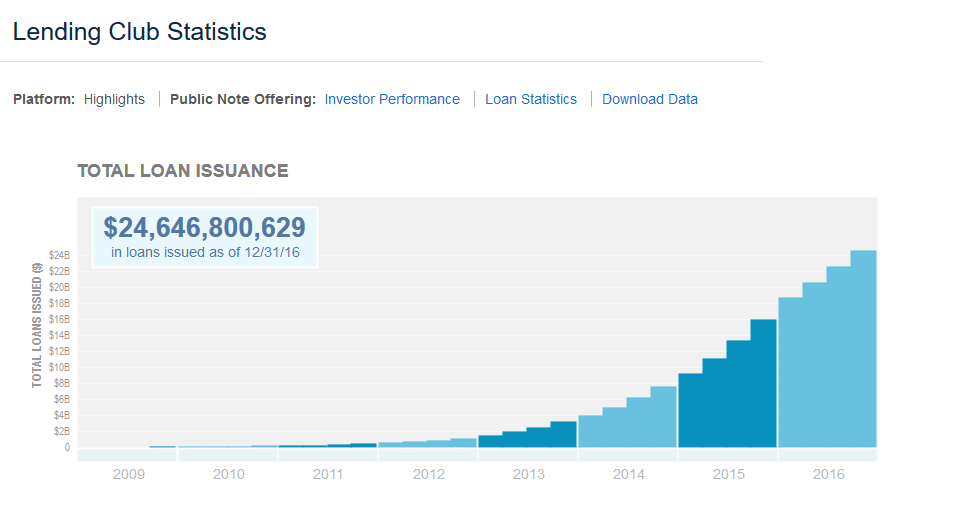 What this chart shows, and click on the link to see the interactive parts, is that at the end of 2015 Lending Club had a total loan volume of $15.9 billion. Year-end of 2016 shows a total volume of $24.6 billion so the annual volume for 2016 is the difference or $8.7 billion. This is an enormous annual volume.
Another very large US P2P lender that also does mostly consumer loans like Lending Club does is Prosper. Prosper is transparent with information as well and per this Wall Street Journal article Prosper did $2.2 billion in loan volume this past year.
This means that these 2 lenders alone did just almost $11 billion in annual originations for 2016. The other very large US lender is SoFi, who loans in a couple markets but specializes in refinancing university student loan debt.
Europe
Europe's lenders are much smaller than US lenders. The European P2P lending market is full of smaller and faster-growing platforms than the US. This greater number of smaller players makes for a very different market than the US.
P2P-Banking has this handy little table they do monthly to show lending volume. December shows that the only 3 platforms that originated more than 25 million EUR of loans were Zopa, Ratesetter and Funding Circle – all UK platforms. Their totals are 60 million, 68 million and 114 million EUR respectively. Projecting this volume out for the year for these 3 platforms (times 12) puts them at 720 million, 816 million and 1.36 billion EUR.
Funding Circle as the largest is about on par with Prosper in annual loan volume. The others are smaller, and as you can see from the table with many monthly volumes below 5 million EUR many European platforms are far, far smaller.
Continental Europe
According to the report prepared by KPMG on the health of the Continental European P2P market discussed at Crowdfund Insider, in Q3 of 2016, the highest loan volumes outside of the UK were France, Germany, and Latvia. Latvia was cited as being the fastest growing market on the continent for P2P lending. AlphaQ gave the same study some nice coverage noting the average 73% annual growth in loan volumes across the continent.
Smaller countries like Latvia and Estonia are in the position to benefit from current common sense regulation that allows for cross-border investment. Investors are not required to be from Latvia to invest in a loan there.
All of Europe's largest P2P lenders except for Funding Circle are consumer lenders. Some lend to consumers for a very short term like we do at VIAINVEST and others go out as far as 3 to 5 years. Funding Circle is the only business lender doing significant volume in Europe. Business lending, Factoring, Real Estate and Asset Finance are all areas where we expect to see European platforms emerge and grow in the future.
The growth of P2P lending in Europe is only just starting.
Do not hesitate to share this article!