Spain is a big market for VIA SMS Group and represents a great deal of loans listed on VIAINVEST. The economics of each country where we lend are important to us and our investors so we are looking at the economic prospects in each of markets where loans listed on VIAINVEST are originated.
EU 2016
The overall EU trends for growth matter to us not just for Spain, but for VIAINVEST other markets as well. The growth of the entire region's economies puts economies of our borrower countries in a good shape repay our loans.
We went into some details on the EU in general and Czech Republic about a month ago and you can check that post out on our blog here. Now let's explore Spain.
Spain 2016
The Organization for Economic Cooperation & Development (OECD) predicts slow but stable economic growth in 2017 and 2018. The unemployment rate is still relatively high in Spain so this is something we need to watch. However, the unemployment rate is dropping to below 20% for the first time in more than 5 years. Investors should remember that employment is a top indicator of being able to repay a short term loan and currently Spaniards are working more hours than they have in 5 years.
The Telegraph in London describes Spain, the EU's 4th largest economy, as a mixed bag. It is the fastest growing of the big 4 economies in the EU with a growth rate of 3.2% for 2015 and 2.5% for 2016.
Economists call the results mixed despite the growth as these results do not come from 'structural reforms' that will improve the economy according to Simon Tilford of the Centre of European Reform who is quoted in the article and whose paper is linked if you want to read it. The paper is from late 2015 but discusses trends that still apply today.
The consensus in Spain is that there is no consensus. Spain is growing at a faster rate than it has in years and faster than other EU countries but it still needs to put some work in fostering sustainability. 2017 and 2018 are looking bright based on economic projections.
Some Other Spanish Economic Stats
There are some other important statistics and multi-year trends where we can examine the health of the Spanish economy from this table below. Note that all the 2016 year end numbers are not available yet to update the table but we can see some of the long term trends.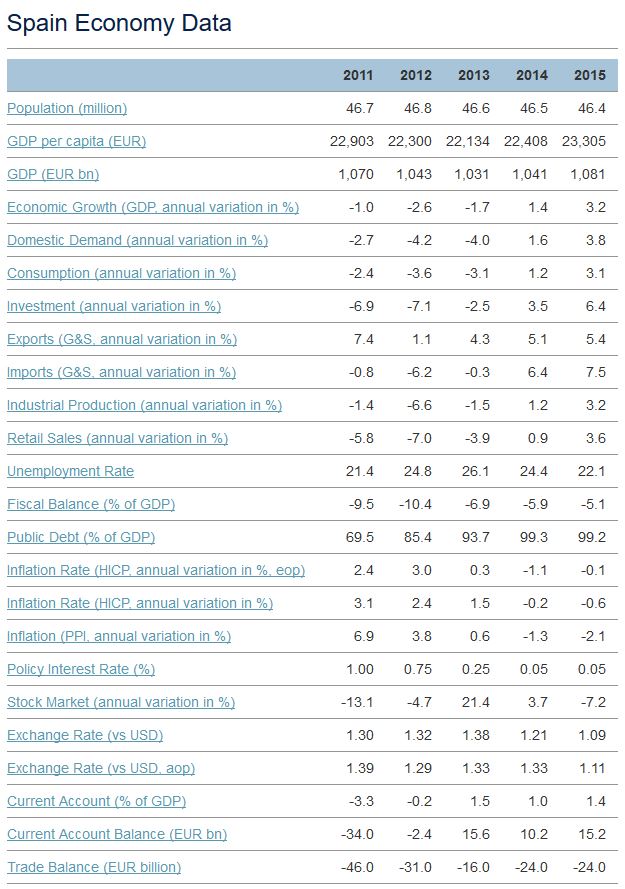 Source: Focus-economies.com
GDP. Starting in 2015 and through this year GDP per capita keeps growing after a recession in prior years. More and more economic activity in the country is good for them and good for us as investors.
Inflation. Inflation is negative for the 3rd year in a row (deflation) and production costs as measured by PPI are in a downtrend so costs to produce goods and services are dropping. Lower PPI means the potential for greater profitability for more industries in the country. PPI stands for Production Price Index.
Government Debt Level. Government debt levels (see Public Debt) are very high at 99% of GDP. This is something to watch.
Unemployment Rate. The unemployment rate is dropping after being in the low-mid 20s for the last 5 years. Still high but going in the right direction.
Conclusion
Spain is currently a huge market for borrowers. All of the major signs point to a turnaround in the Spanish economy from a long painful recession into a steady slow but stable growth economy now. Unemployment, while high, is dropping and costs of production are dropping as well allowing more Spanish companies to be profitable. GDP is growing and Spaniards are optimistic.
Spanish loans present a good opportunity on VIAINVEST and they are secured with the Buyback Guarantee to provide you even more protection against loss. Enjoy investments with up to 12,2% annual ROI!
Do not hesitate to share this article!