A new quarter brings a new record of fintech investments. According to the newest report by CB Insights, $5.4 billion has been raised across 323 deals by VC backed financial technology companies in Q1 2018, marking it the best quarter that has ever been registered globally.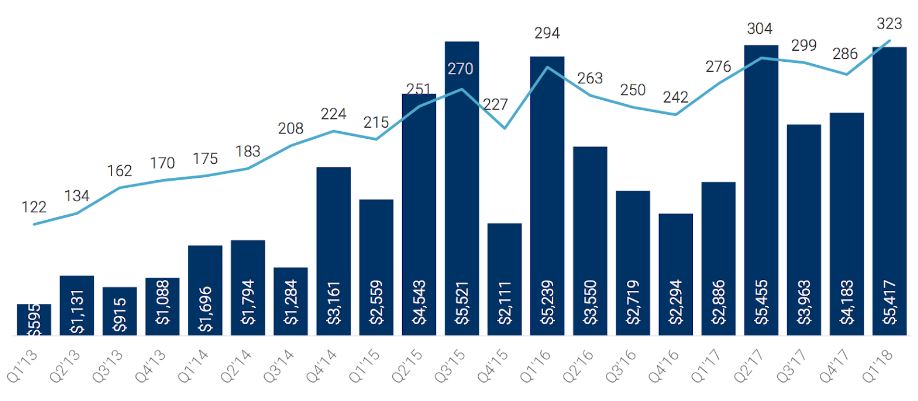 Source: Page 10 of the Global Fintech Report Q1 2018 by CB Insights.
US shows the most significant rise in the number of deals, with a 38% increase quarter-on-quarter, from the 114 funding deals registered in Q4 2017 to the 157 deals in Q1 2018. Curious to note that California hosted almost twice the number of deals than the State of New York – 61 against 31. Opposite situation is observed in Europe, where we saw the lowest number of deals within the last twelve months. However, thanks to the mega-rounds raised by digital challenger banks N26, that received $160 million, and Atom Bank, that got $206.9 million, the amount of capital invested has been the highest of the last five quarters.
Asia and South America have also shown considerable growth in funding amount. A massive increment of +188% was observed in Asia growing from $701 million in Q4 to $2.2 billion in Q1, partly due to the $650 million raised by the fintech provider OneConnect. South America also saw a significant growth where the investments in financial technology companies increased by 164%. This growth confirms the rise of this industry in the region, where it has started late and developed slowly, but that is now showing great results.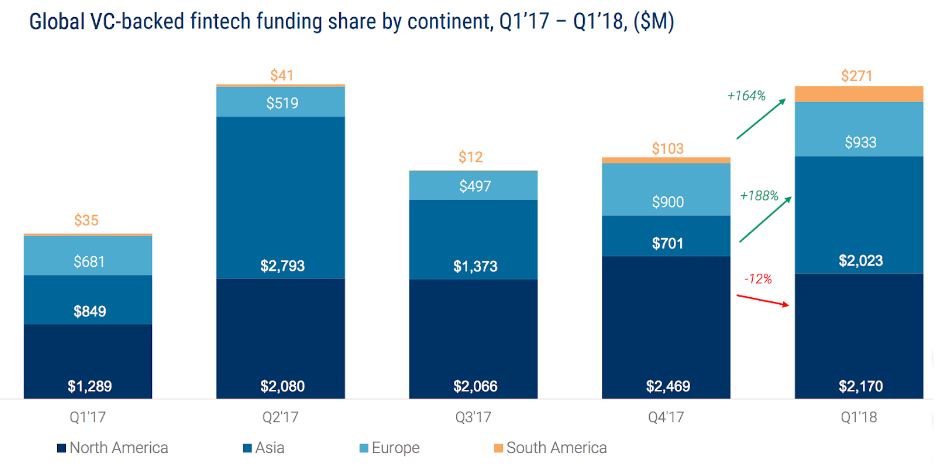 Source: Page 10 of the Global Fintech Report Q1 2018 by CB Insights.
When looking at the top deals in this quarter, leaders are N26, a digital banking, based in Berlin, as well as Atom Bank, another challenger bank, founded in 2014 in Durham, UK, and OneConnect, a Shanghai based fintech solutions provided for small and mid sized banks. But there also Wecash, a Chinese big data credit assessment platform that provides solutions for technology companies, and Oscar Health a insurtech company headquartered in New York City, that employs technology, design, and data to humanize health care.
On the other side of the table, the most active VC, by number of fintech investments in the last year, has been 500 Startups. They made investments in Yaypay, peoplefund, MoneyFellows, First Circle and RealAtom among others. After 500 Startups, we can find Ribbit Capital, CEFIF, Index Ventures and NEA as the most active investors.
Taking into consideration macro trends in the industry, in addition to digital challenger banks and wealth management, we can note a considerable amount of investments in the Regtech companies. This is visible both regarding number of deals that almost doubled passing from 11 in Q4 of the last year to 21 in the first quarter of 2018, as well as in the amount of investments, which went from $160 million to $310 million. In that sense, it has been highlighted by CB Insights that the new regulations introduced in the EU, such as PSD2 and MIFID II, as well as GDPR that will enter into force on May 25 2018, have been a key reason for this substantial rise in term of interest and capital invested into regulation technology startups.
Do not hesitate to share this article!