Every generation has the same rhythm. The old are always baffled at how the younger ones adapt and use new technological innovations with such ease while the older one's battle.
Take smartphones as a good example; older generations often need someone to help set it all up and show them how it works. Give a toddler that same phone and you will be amazed to see how they figure out how the setting work and they even show you a thing or two.
The same goes with investing. Older generations trust what they know. The saying goes, you can't teach an old dog new tricks. Investing was traditionally limited to banks, share trading, and opening your own business.
Younger generations are less inclined to simply accept the status quo, and peer-to-peer lending (P2P) is a good case study. Let's have look at some reasons why P2P lending has a greater chance of acceptance and adoption amongst younger investors.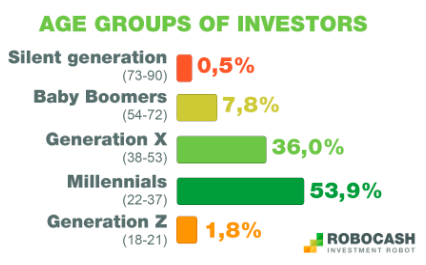 Source: Robocash
There Is Far Less Red Tape
With the pace of life going vertical and fast, time is money, and nobody likes being held back by burdensome rules and regulation. In the United Kingdom, P2P lending is not governed by the Financial Services Compensation Scheme (FSCS). This makes it less burdensome and easy.
Younger generations like speed and ease of use. Weather it's for their technology or their finances, easy of entry and ease of use makes P2P lending very attractive. The same is currently the case across other parts of the world.
The only thing an investor would need to worry about is to declare their income in their annual tax return.
The Return Is Great When Compared to What Banks Are Willing to Offer
Most of the European, Asian, and North American countries have relatively flat interest rates, and this has resulted in banks offering near zero interest rates to people opting to invest funds in a fixed-term deposit product.
It doesn't take long to see that P2P lending offers fair value in terms of return and cost of use. When you evaluate what all P2P lending providers offer, it seems that the average return out there is about 7 percent depending on the risk portfolio you choose.
Compare this to the less than 1 percent offered by banks, then this is a no brainer. Throw in the inflation rate of most of the world's industrial economies and it simply doesn't make sense to invest with a bank where the value of your money will effectively shrink because inflation outpaces the interest earned.
You Don't Need Much to Start Investing
One of the most well-known P2P lending platforms out there, Lending Club, lists that you can start investing with as little as $25 USD. This is a stark contrast to investing in shares where many stock exchanges require a minimum of $500 USD depending on the exchange.
According to smartasset, you don't even need to know much about investing. You can simply open an account with $25, and they will allocate your investment in line with the risks and terms you are willing to settle for. This draws in a lot of people and is a great way to test the waters.
This kind of flexibility and control from an investor point of view is a large value proposition to younger generations that grew up with mobile phones and Internet readily available. To them risk is different than an older investor.
It's Completely Online and Super-Fast
In short, P2P lenders empower younger generations by offering an enabling environment that easily facilitates transactions that suit fast-paced individuals that can't wait. According to Welltrado, "P2P lending is online, flexible and growing strongly, which is why it's catching the eye of so many Millennial investors!"
Generation Z is known for their instant gratification tendencies and this cannot be truer when it comes to their money. They want something that is instant, always available, and easily accessible. There is no such thing as business hours or a branch you need to follow to do business.
P2P lending only requires an Internet connection and is virtually accessible from any device. Variations of risk and investment periods make this very attractive, and it
Do not hesitate to share this article!