Greetings and welcome to our second post in the series of #VIAINVESTtips! This time we will take a closer look at different loan types that we have listed on VIAINVEST, and while we're at it, let's also take a look at different features of these loans.
Let's start with the most common loan type listed on the platform, namely short-term loans.
As the name of this loan type implies, these loans are issued to borrowers for a short period of time, namely up to 30 days in our case. This means that a borrower must either repay the loan within 30 days since the borrowing date or extend the loan term if for some reason it is not possible to repay the full amount. Everything is quite simple from the investor's point of view as well – you make your investment and get paid back after the loan term has ended and the borrower has repaid the loan.
There is, of course, a possibility that the borrower might fail to repay his/her loan on time. In that case there are two options:
1. Our automatic Buyback Guarantee comes into force after 30 days of delay, and we repay you the whole investment amount + earned interest for the whole period (yes, that also includes the delay time!). The estimated time of return can be calculated in the following way: loan term + 30 days of delay;
2. Borrower can also choose to extend his loan, in which case loan status changes to Extended. During the extended period the borrower can still make partial payments, and if that's the case, investors having invested in this particular loan will also receive partial interest payments before the loan closing date. If you feel like the loan extension lasts longer than expected, you can manually withdraw funds from that particular loan by using manual Buyback as soon as your investment period hits 120 days since the investing date. Initialize Buyback button will appear on the particular loan profile and you are able to exit this investment by receiving full invested principal and earned interest repayment.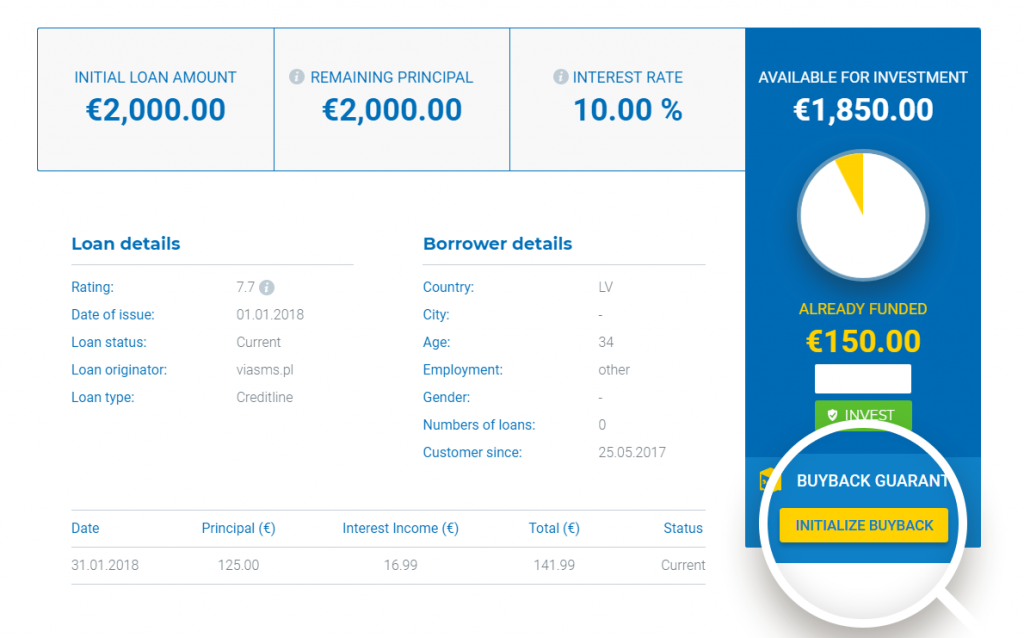 There is of course an opportunity for the investor to keep funds in that loan and continue earning interest as long as the loan remains active.
Next up we have installment loans.
The main difference with installment loans is that the loan term varies from 3 to 12 months. In case of installment loans, the borrower makes a set of monthly payments until the loan amount is repaid. Investors get paid a percentage of their principal investment and earned interest with each of these payments.
Both automatic and manual Buyback Guarantees also apply to this loan type and work exactly the same way as they do with short-term loans.
And finally, the loan type that tends to raise the most questions – credit line.
This has been the latest addition to our loan portfolio, and it has quickly gained a pretty big percentage of total loans published as this lending product type is particularly favorable to borrowers due to the possibility to adjust repayment terms.
You can think of credit line as a combination of short-term and installment loan. The initial loan amount is issued to a borrower for initial 30-day period, and during this period the borrower has to make a choice – either to repay the full loan amount within 30 days or make monthly payments until the full loan amount is repaid (as it is with installment loans).  This is why there is no actual loan term set for these loans, as it can be changed. You will always be able to monitor the remaining loan term for credit lines – it will indicate the number of remaining days until the next scheduled payment. Sounds easy enough, doesn't it? However, the trick with this loan type is that the borrower can borrow an additional amount to be added his original loan at any time, given that he keeps making minimal monthly payments. These funds then are added to the same loan listed on the platform, making them available for further investments. This is a great option if you are looking for additional investment opportunities!
In order to help you understand this loan type better, we have prepared a simple infographic below. Both Buyback options are available for credit line loans too, and function the same way as with other loan types.
Do not hesitate to share this article!