Sky-high inflation has gripped the global economy and thrust saving money into the spotlight. Meanwhile, just as the pandemic is finally seemingly starting to wind down, the events in Eastern Europe have ratcheted up the uncertainty factor. The one-two punch of inflation and the potential for rising interest rates have exacerbated an already precarious situation. We thought now was a good time to explore ways to save money and potentially add additional revenue streams in 2022.
During the best of times, Europeans are disciplined savers and under sock away 12% of their earnings, according to the IMF. Between 2020 and 2021, at the height of the pandemic, the savings rate increased to nearly 19% as lockdowns and social distancing measures cut into spending. Put another way, during that time frame, Europeans are estimated to have saved close to $1 trillion more than they otherwise would have were it not for the restrictions, setting a new record as savings rose to the equivalent of 8% of the eurozone's GDP.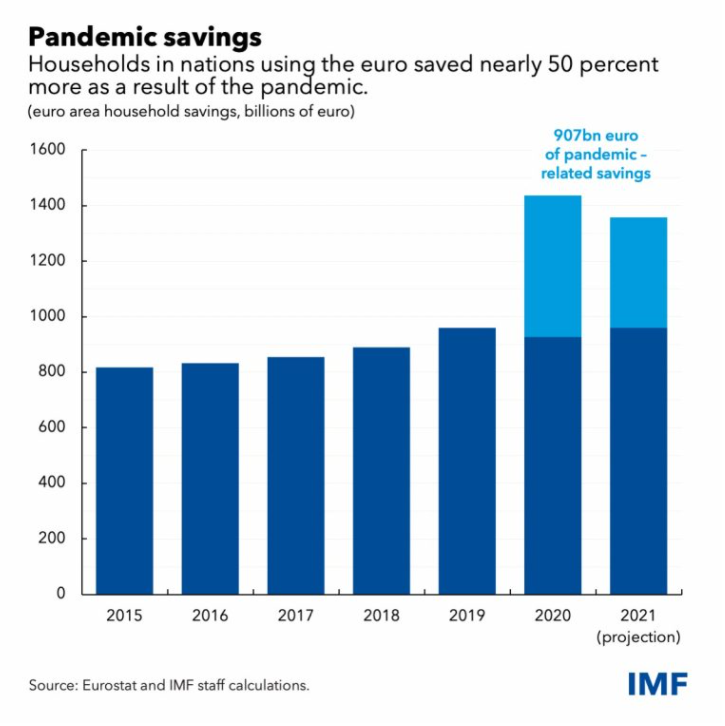 Source: IMF 
Rising consumer prices, however, are eating away at the euro's purchasing power despite the savings.
Regional Breakdown
The Baltics have been struggling with sky-high inflation, and in some cases, that's translating to lower overall savings rates.  Estonia's inflation rate surged to 12.2% in December, the highest in 20 years. Lithuania's inflation rate was not far behind at 10%. In Latvia, inflation climbed nearly 8% higher in the same month. The one thing that the Baltic states have in common is that consumer prices have been on the rise since joining the eurozone, as per Bloomberg.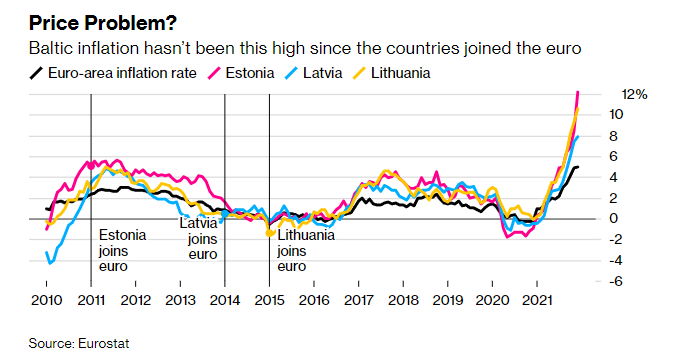 Source: Bloomberg 
At first glance, it appears that Latvians have lagged when saving money. For example, according to a poll by Luminor Bank, over 33% of the Latvian population could live off their savings for two months. Meanwhile, 50% would run out of money in a month. Close to one-quarter of survey respondents have saved enough to live for up to six months, while the savings of about one-fifth of participants would carry them further than that. The best results were found in the highly educated areas of the capital city of Riga and Pierīga, while Kurzeme is on the other end of the spectrum, with some residents having zero savings.
Upon further examination, however, it appears that Latvians are foregoing traditional savings accounts and fixed-term deposits in favor of allocating to other financial products across pension funds, life insurance, investment funds, equities, and fixed-income instruments.
Estonians, meanwhile, bolstered their savings throughout the health crisis. According to the Bank of Estonia, the combined savings for Estonian households hovered at over $10 billion as of November 2021, increasing by $1 billion year-over-year. The uncertainty due to the pandemic is said to have fueled the savings increase, coupled with restrictions making it difficult to spend money on categories like entertainment. In Estonia, bank deposits have been rising.
In Lithuania, soaring consumer prices are looming over the household savings rate. Lithuanian households have a combined EUR 20 billion tucked away in savings accounts, but with double-digit inflation, it's not worth nearly as much as it was just a year ago.
Ways to Save
Here are ways in which you could target saving money in 2022.
Eliminate Debt
If you want to start seeing your savings grow, it is critical to aim for your debt, especially credit card debt. Owning money robs you of your hard-earned money. Besides, it is challenging to build a nest egg for the
future when you are stuck paying for the past. There's no shortage of debt removal strategies out there, one of which is the snowball effect.
In this approach, you target your smallest credit card bill first and make your way up to the biggest. Each time you pay off an account, apply the previous monthly payment amount toward the next most significant bill, and so on. Once you've made some headway on your credit card debt, you can start directing the money you'd otherwise earmark for those bills toward some savings or investment product with an attractive rate of return to grow your money.
Use Public Transport
Sometimes you need to think like a traveler to save money. Notice how the public transportation system is often busy with tourists? That's because using public transit is one of the top ways for them to save money during their visit instead of taking a taxi. Check out the following European taxi rates to see what we mean:
In Oslo, Norway, the average taxi fare is $10.70 per mile
Zurich, Switzerland, is $9.20 per mile.
Luxembourg City will run you $7.45 per mile.
You could apply tourist thinking to your work commute or entertainment plans. Fortunately, Europe is known for its inexpensive yet efficient public transportation system that you can count on to get you where you want to go. Buy tickets in advance and consider investing in a longer-term pass where
relevant, such as monthly, to capture the most savings. Better still, if it's nice weather and a reasonable distance, you could even walk.
Staycation
Speaking of travel, you could choose to have a staycation and save a bundle. While it's common to have cabin fever on the heels of the pandemic, there are plenty of things to do in your neck of the woods that could give you a mental break you're after in the first place. Museums are primarily free to visit, for example, or you could make a plan to see other landmarks in your area, like national parks. Groupon has some great deals that could allow you to expand your horizons during your break, with savings on things like local food often in the 20% range. Instead of hiking Mount Kilimanjaro, hike some local trails and save yourself thousands of dollars in the meantime.
Fun & Games 
Santander recognizes that saving can sometimes be a challenge and has suggested households create games around saving money for a specific goal, like traveling or buying a new car, to make it entertaining. The games can be as simple, from making a treasure hunt out of finding loose coins to attaching financial penalties for certain negative habits. You could also do a spending-free day when the household members are encouraged to participate in free/outdoor activities. With 52 weeks in the year, you could also have each family member earmark the corresponding euro amount with each week; so EUR 12
for the 12th week of the year, etc. By the end of the year, the savings could add up, and your goal could be within reach.
Limit Streaming Content
By now, many people have already cut the cable cord. And while content streaming services typically have lower rates attached vs. cable, it's very easy to stack multiple providers so that any cost savings are quickly erased. If you're crypto savvy and open to taking risks, there is a project out there that will help you to eliminate specific subscription bills, like Netflix. Thanks to a blockchain project called the Pylon protocol, you could commit your crypto holdings, specifically the Terra stablecoin, to a pool for some time. In exchange for doing so, that crypto will generate up to 20% returns that would then be applied toward your Netflix subscription. It's essential to do your own research (DYOR), but this could be worth looking into if you're into crypto.
Lower Energy Bill
There's nothing quite like saving money from a lower energy bill, especially in the current environment with natural gas and oil prices on the rise. Some European governments are offering subsidies this year to help offset the higher costs, including doing away with levies or the value-added tax (VAT). Depending on the specific region in which you live, there could be renewable energy programs for sources like solar that will bolster energy efficiency and help you save money on your electric bill. The EU urges governments to invest more in renewable power to lessen their dependence on fossil fuels and provide relief to consumers. In the Baltics, Lithuania is out front for renewable energy, according to the IEA, and is headed toward climate neutrality in 2050.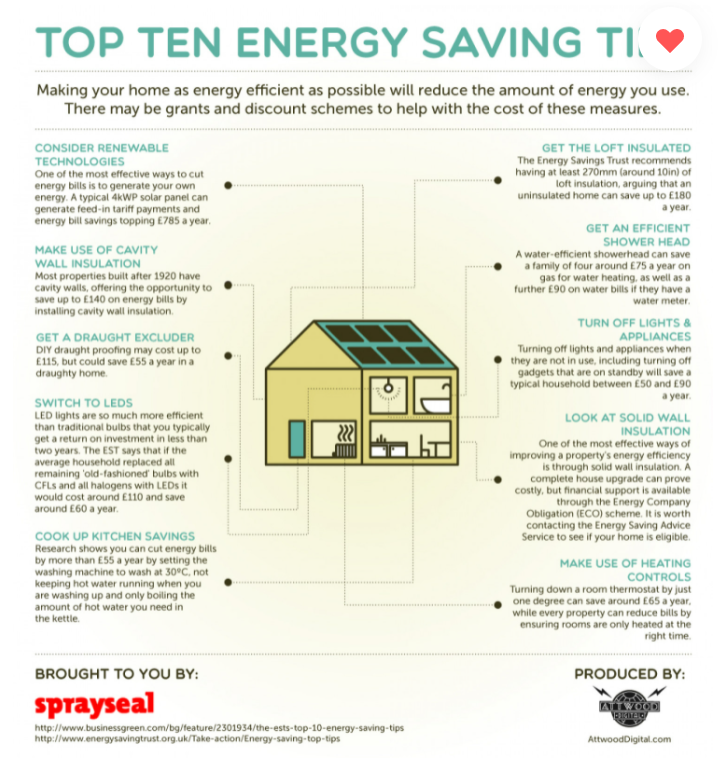 Source: Sprayseal
Do It Yourself (DIY) 
There are YouTube videos for everything these days. If you're even the slightest bit handy, you might be able to save yourself thousands of euros by doing it yourself instead of hiring an expert. Rather than paying a professional, you'll need to invest in the materials and your time for the task at hand, whether you're remodeling a bathroom or making your soy or bee's wax candles. Try and borrow whatever equipment you can so you don't have to buy it. Ask someone to help if you could use an extra set of hands. In some cases, like with candles, you might consider participating in a local craft fair and selling items for some extra cash once you get the hang of it.
Refinance Your Mortgage
Interest rates remain low for the time being, but that dynamic could change shortly. Homeowners might want to consider refinancing their mortgage now so they can harness the savings that the attractive rates bring to bear. If done right, you could end up paying your mortgage years before you otherwise would have been able to without a refinance. Be sure and talk to your financial professional about whether this is the right move for you. Bigbank, which already issues mortgages in Estonia, recently expanded into Latvia with competitive rates starting at 1.8% at last check with incentivized repayment programs.
Ways to Earn
And here are ways in which you can make your savings work for you and generate more income.
Find a Side Hustle
One of the sure-fire ways to bolster your savings is to earn more money. Remote working has been a byproduct of the pandemic, and it could work to your advantage. Suppose your employer allows some remote work and there is no conflict of interest. In that case, you could devote some time to your money-making venture, whether it's freelancing (blogging, photography, etc.), arts and crafts where you could sell items at local fairs or farmer's markets, or something else entirely.
The gig economy is going strong, so you might also consider meal/grocery delivery, ride-share, or something along those lines. You could also consider selling clothing to a second-hand store or on eBay, for example. If you are a yoga leader, consider hosting one in a public setting like a park.
If you happen to be fortunate enough to own a piece of property that's not being used, you might also consider renting it out. Airbnb hosts across Australia, Canada, the UK, France, and beyond have generated $1 billion in the wake of the health crisis as people have preferred cozy and local stays over hotels. Just be aware of some of the pitfalls that lead to unsatisfied customers so you can be sure and receive positive reviews.
Peer-to-Peer Investing 
If you're looking for a place to park your money, peer-to-peer (P2P) investing is a way to tap into the alternative finance markets where returns can reach as high as the double-digit percent range. According to P2P investor Jean Galea, P2P investing delivers steady returns of between 10-15% compared to 3-7% for real estate investing. Keep in mind that the risk of borrower default exists with P2P, while there is collateral with real estate. But with the nominal rates currently offered by most savings accounts, P2P provides an attractive alternative to many asset classes. Galea advises P2P over savings accounts as long as you aren't looking to access the funds in the short term. P2P, he says, is worth the risk "to grow your money using compounding interest."
Money Apps for Savings
Your mobile phone can be a fundamental tool for saving and earning money. Mobile money apps allow you to pay bills online, deposit checks remotely, and receive alerts for set parameters, so you don't skip a beat. Online apps could help you budget, invest, and save. Here are a few online banking apps to consider:
LearnVest for budgeting and monitoring your spending.
MVelopes to help you stick to a budget.
Venmo for real-time payments, whether you're sending money for things like splitting a bill or receiving it.
Online broker app Robinhood is popular in the U.S., and it was expected to expand into the U.K. before those plans were abruptly canceled. Many other money apps are looking to fill the gap and give Europeans a mobile option for saving and investing money. According to the Financial Times, Europeans lag their American counterparts regarding equity investments, though the Baltics rank well.
Source: Financial Times 
Mobile apps like Raisin support multiple savings accounts on a single platform. Raisin offers a GBP 50 bonus for joining and depositing GBP 10,000. Aside from the bonus, the best savings rates at last check were in the range of 0.61-0.67%; taken with the bonus, that becomes a savings rate of 1.84% on GBP 10,000. Savings and investment app Chip offers a savings rate of 0.7%. If you deposit more than GBP 50,000 into Chip, you'll gain access to the most competitive savings rates via the savings platform Flagstone. Saving and investing mobile app Moneybox also helps users save money by rounding up bank
transactions and directing the difference into a savings account. Moneybox's minimum investment is just GBP 1. Meanwhile, N26 is a mobile banking app with a European banking license. Open an account in a matter of minutes. N26 is designed to help you achieve your financial goals. Surveys R Us
Survey Says
Companies are paying participants for participating in online surveys these days. While it might not replace your 9-5 job, It could be an excellent way to generate some extra income. Australian company Octopus is an online survey provider that compensates its poll participants. Based on the reviews, the amount users are paid is commensurate with the time that the survey takes to complete: the longer the survey, the higher the price tag. Members earn money both for participating in online surveys and referring their friends.
While Octopus appears to be focused on Australia and New Zealand for now, they are looking to expand, so it could be one to keep an eye on. You can also find a handful of European-focused survey companies that reward members, including:
Survey Junkie
LifePoints
Swagbucks
Unlocking the Combination
Saving money is one thing, but when you can preserve your money and grow it, you are making some real headway. Not every tip might be right for every individual, but indeed, we can all find ways to save that don't disrupt our lifestyles too much. And then put some effort into making more money, either through investing or a side hustle, something that the rise of technology and mobile apps has made more accessible than ever. Even with the economic uncertainty, you can finish the year with more savings than you started with if you can unlock the right combination.
Do not hesitate to share this article!