In what could prove to be a match made in heaven, China is lifting its profile for fintech and is increasingly looking to the UK more than any other European country for influence. In a landmark announcement, China revealed it's selected the UK as a partner on its project to develop a sustainable fintech city near its capital Beijing – dubbed the Xiong'an New Area. The rising trend of China and the UK collaboration satisfies different needs for both regions that could ultimately usher in the next generation of fintech.
China and the UK unveiled their plans to work together on Xiong'an during British Prime Minister's Theresa May's recent visit to Beijing in which she was looking to solidify trade relationships ahead of Brexit. Indeed, the UK's desire to be friendly with China comes ahead of the country's forthcoming separation from the EU, a region on which it currently relies for trade.
China, meanwhile, and Beijing more particularly is looking to lift its prominence in the global economy, as evidenced by its robust multi-billion dollar foreign policy transportation project Belt and Road, by which it plans to connect, Asia, Europe, the Mideast and Africa via a transportation network of railroads, airports, pipelines, power grids, etc. By creating Xiong'an, China is looking to draw millions of people to the region in what's been called an annex of sorts to China's much more crowded Beijing.
China's Fintech Culture
China's middle class continues to rise, which is fueling the country's massive internet usage that dwarfs that of all of Europe as well as an appetite for mobile devices. In many ways, China already boasts one of the most fintech-savvy cultures in the world, with the population largely having transformed from a cash society to one that is driven by mobile payments – circumventing cards altogether – a movement led by Alipay and Tencent.  Check out the below illustration from nonprofit Brookings Institution: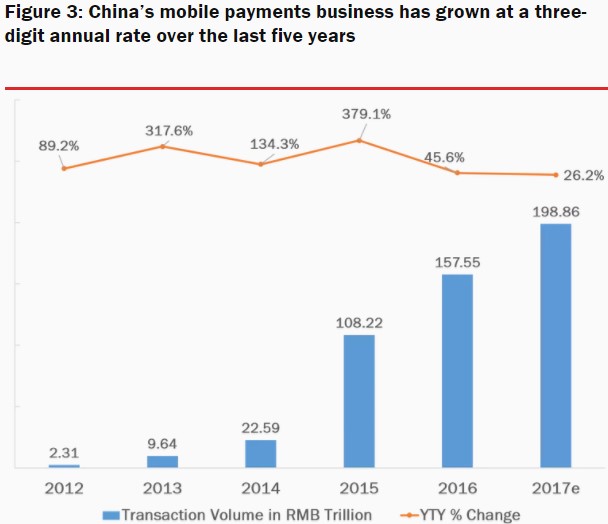 Source: The Brookings Institution
And, to be fair, China's fintech market is more than just mobile payments. Other fintech market segments where China shines include "lending, consumer finance, online money-market funds, online insurance, personal financial management and online brokerage," as per Brookings.
But the number of peer-to-peer lenders in China has been on the decline amid cumbersome regulation in the country, an image that it will have to shake if it wants to attract top fintech plays across niches to the new hub. This is particularly true for luring foreign fintech plays to the region, in which case China's rules and regulation can be especially opaque.
There are additional fintech partnerships being inked between the UK and China, however, including –
A memo-of-understanding (MOU) was signed between the UK's fintech group Innovative Finance and the National Internet Finance Association of China. They're targeting the formation of fintech initiatives to cross-promote within each other's jurisdictions.
The UK's cross-border payments startup Currency Cloud and China's X Transfer have joined forces for foreign currency platform.
UK-based R5FX is teaming up with Shanghai Clearing House for an automated trading platform for China's institutional investors to gain direct access to FX exchanges circumventing brokers.
The UK's Role
China is tapping into the expertise of Canary Wharf Group, which developed London's financial center, to help it achieve its fintech ambitions. China's hub won't be a carbon copy of Canary Wharf, but there will be some parallels. As one of London's two leading financial centers, Canary Wharf is unique for its proximity to the suburbs, a feature that China's Xiongan will emulate. Canary Wharf's Level 39, meanwhile, is a space that attracts some of the top fintech talent in the world. But China's planning for its new city to have even more of a fintech flavor than its UK counterpart.
The expectation is that more UK fintechs will be bidding for contracts to build China's fintech hub. Some of the companies that have been suggested include Building Research Establishment Zaha Hadid, and Foster + Partners for architecture, according to reports.
Do not hesitate to share this article!