Let's start by saying that the third quarter of 2018 was not the best for VC-backed fintech companies, both in term of funding and number of deals, especially if compared to the global all-time records of the second quarter. Despite the fallback, with the $5.64B invested over 375 deals, the total amount of funding in fintech firms has already largely exceeded last year's annual big results. And also, for what it concerns the number of deals, these are actually still on track to make 2018 a record year.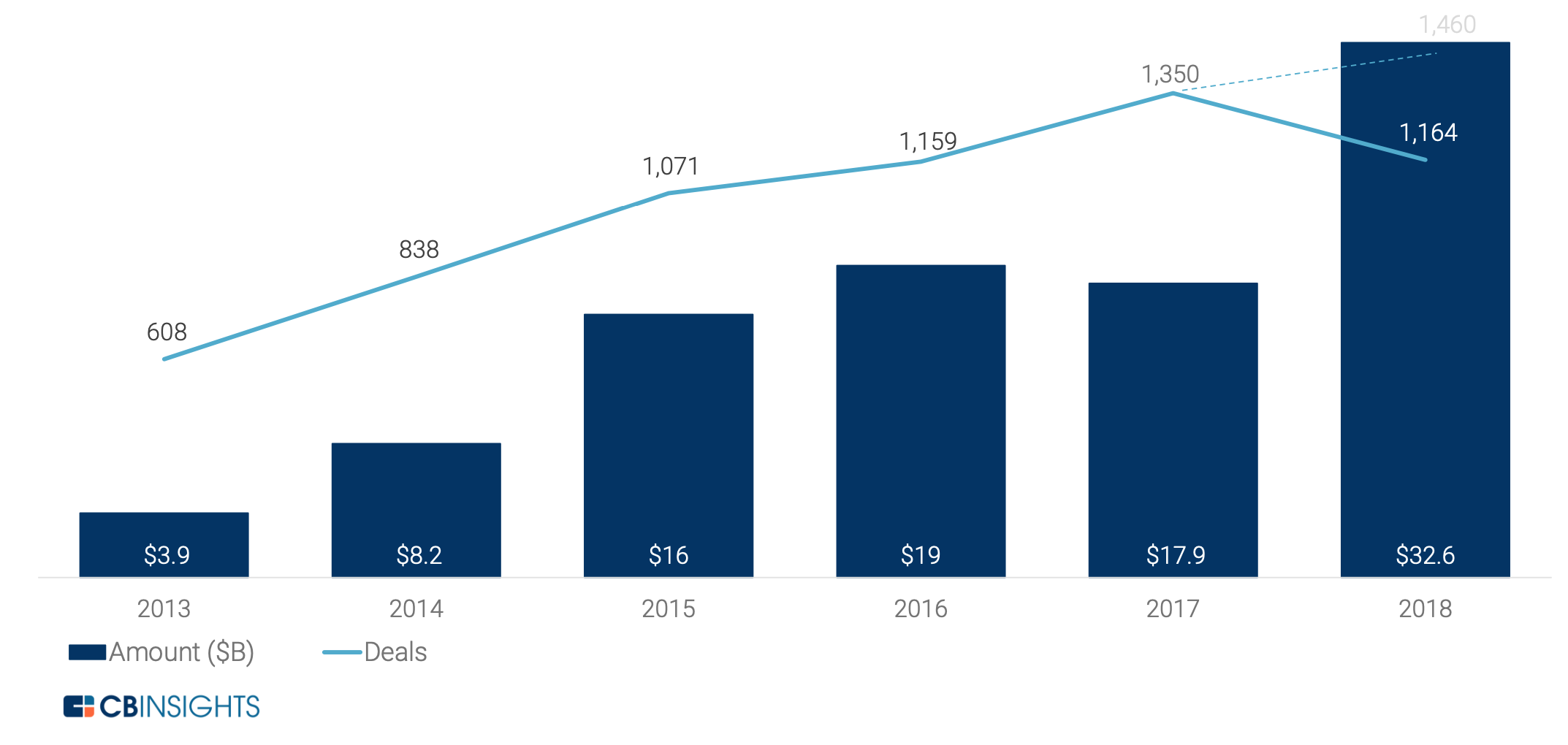 Source: The Global Fintech Report Q3 2018 by CB Insights; p. 9
By taking a deeper look at the main takeaways from the Global Fintech Report Q3 2018, just released by CB Insights, the contraction in term of number of deals has been driven basically by a 16% decrease, quarter on quarter, on early-stage fintech deals (seed and Series A rounds), with some substantial pullback both in the US and Asia, where deals in early-stage financial technology firms decreased by 26% and 22% respectively.
With 64 deals in early-stage companies, Asia surpassed the US, where the deals closed in Q3'18 have been 59. However, the amount of funding was actually higher in the US, with $434M invested against $270M in Asia. More stability in Europe, where the number of deals decreased just by 4.4% for early-stage companies, but increased in total terms, passing from the 75 deals closed in Q2'18 to the 85 closed in the last quarter.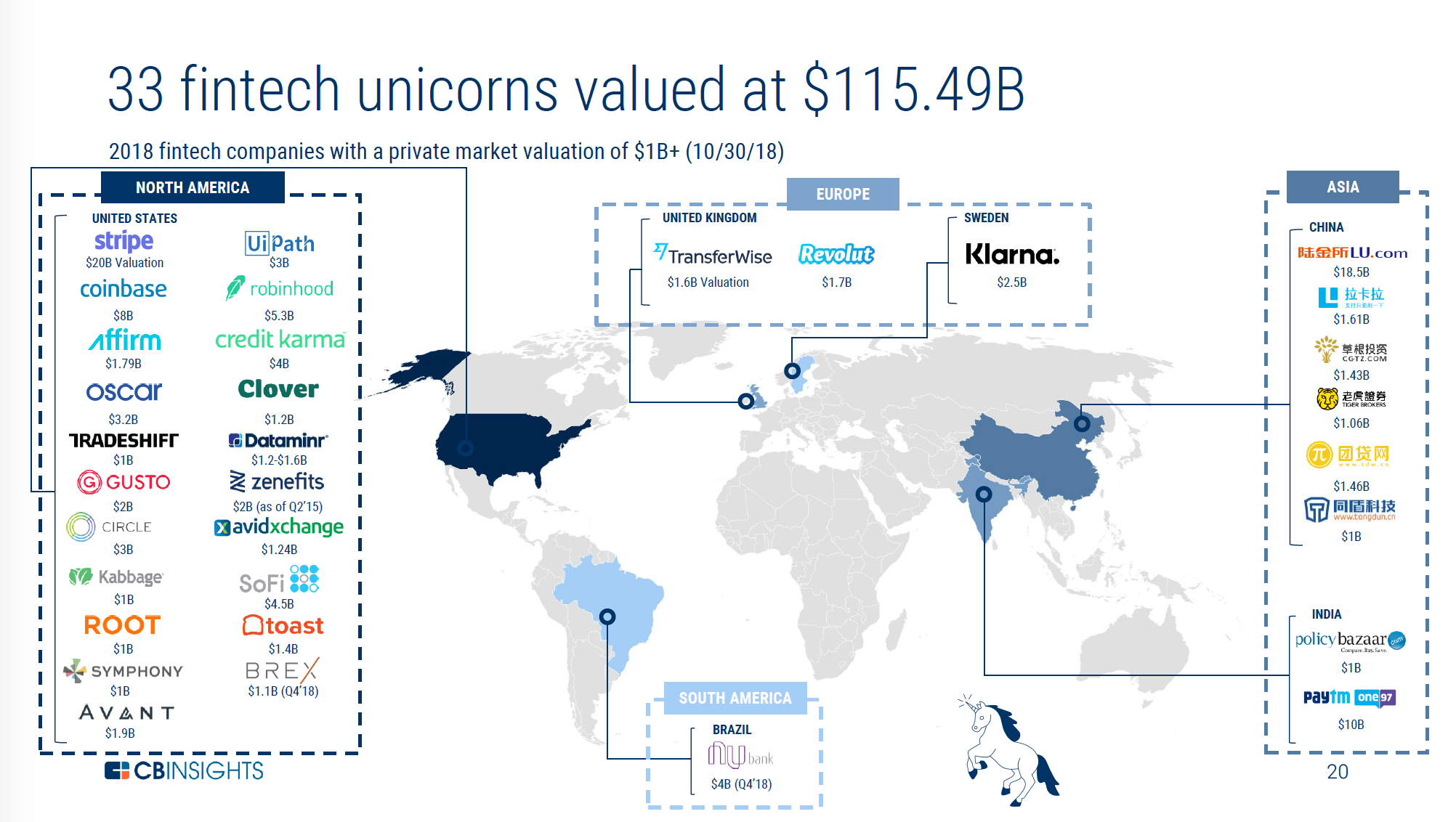 Source: The Global Fintech Report Q3 2018 by CB Insights; p. 20
The third quarter of the year saw the cumulative fintech unicorn (financial technology companies valued over $1 Billion) valuation reaching $115.49 Billion, supported by mega-rounds (funding rounds of more than $100 million) into three existing unicorns – Brex, Nubank and Coinbase – and the birth of two new ones: Root and Toast.
Root, a low-cost car insurance, that offer an innovative pricing obtained by tracking how users actually drive – two weeks test for people interested to get insured based on various factors including mileage, dangerous routes taken, hard braking, etc. In August, they raised $100M in a Series D round at a $1 Billion valuation. A good range of investors including Redpoint Ventures, Ribbit Capital, Scale Ventures, and Tiger Global Management.
Toast instead is an all-in-one point-of-sale and restaurant management platform for businesses in the food service and hospitality space. In July, they raised a $115M Series D round, at a $ 1.4 Billion valuation. The round has been led by T. Rowe Price Associates, with various other primary investors including, Lead Edge Capital, Tiger Global Management Bessemer and Generation Investment Management.
In addition to Root and Toast, the other top 10 global fintech deals in Q3'18 have been:
Oscar, a health insurance company that employs technology, design, and data to humanize health care;
One97 Communications, the parent company of India-based Paytm Payments Bank;
Stripe, an online payment infrastructure provider, allowing individuals and businesses to receive payments over the Internet;
UiPath, a robotic automation Robotic Process Automation vendor providing a complete software platform to help organizations efficiently automate business processes;
LianLian Pay, a provider of money transfer services for merchants and consumers around the world;
Wacai, a mobile app developer and the creator of a personal finance management mobile app and other financial applications;
Gusto, a cloud-based payroll, benefits, and human resource management solution for businesses;
Pingpong, an e-commerce payments platform for the Chinese market;
Flywire, a global payments platform;
Deposit Solutions, the provider of an Open Banking platform for deposits connecting banks and depositors across Europe.
Do not hesitate to share this article!