The recent quarter of 2018 was absolutely amazing for financial technology companies. According to freshly published Global Fintech Report Q2 2018 by CB Insights, VC-backed fintech firms have raised $20,3B across 383 deals in the second quarter of the year. Even when excluding the Ant Financial's mega-deal, accounting $14B alone, this remains a record quarter both in terms of the number of deals and funding with about $700M from Q1'18, reaching a total of $6,3B invested.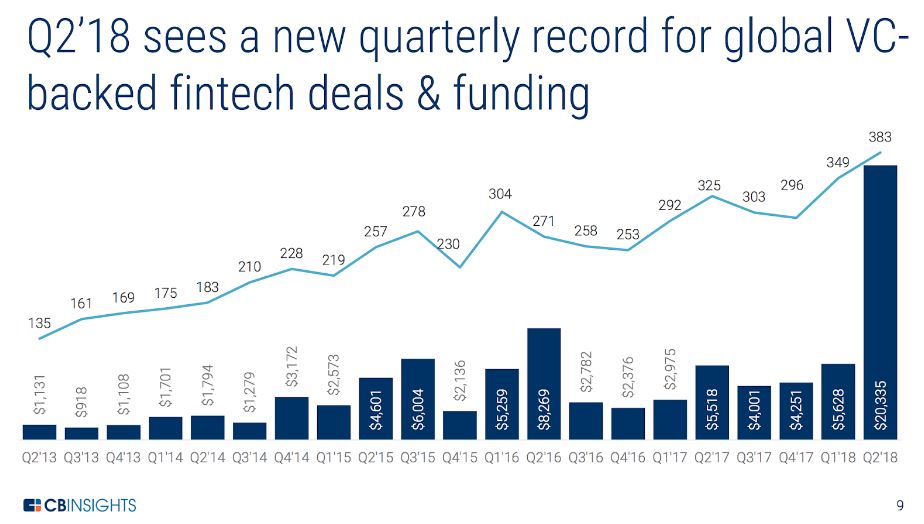 Source: The Global Fintech Report Q2 2018 by CB Insights; p. 9
The US continues to play a key role globally, remaining the largest market in fintech. In the last quarter, we saw a slight decrease in the number of deals, that has been compensated by a record in terms of funding and has grown 48% quarter-on-quarter, supported by six mega-deals and topped by two new unicorns (companies with a private market valuation of more than $1B) – Circle, a peer-to-peer payments technology company, and Tradeshift, a supply chain payments and marketplaces for SMEs and enterprises.
On the other side, the Asian fintech market has accelerated a lot recently, so if it continues in this way, it could reach the US level relatively soon. The growth has been reached especially in terms of early-stage deals and in the Chinese market, where the number of deals has almost doubled in the past three months.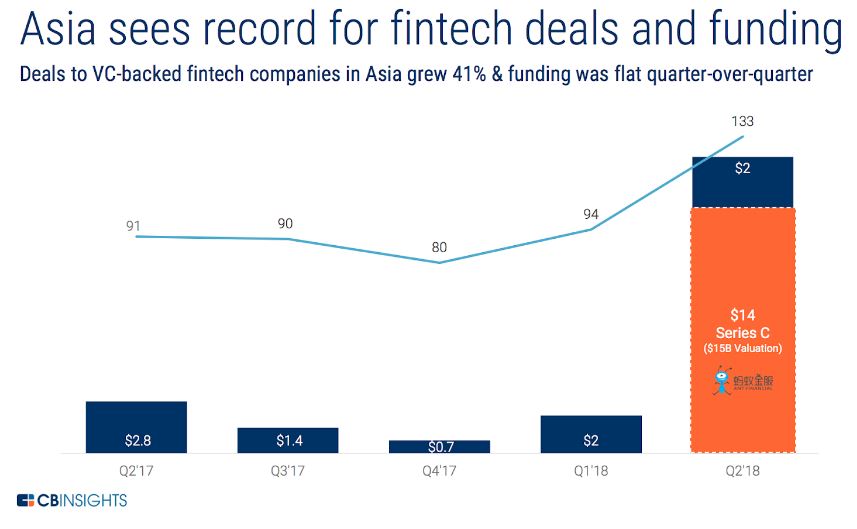 Source: The Global Fintech Report Q2 2018 by CB Insights; p. 71
Africa saw the first real jump in both the volume of deals and on funding (+99.6% QoQ), while South America got the largest funding dip with an 89% decrease quarter-on-quarter, from the $271M of Q1 to the $30M invested in Q2. But even if the percentages suggest big changes, the reality is that we are still talking about very limited numbers.
Things have been quite peculiar also in Europe, with a 20% decrease in funding compared to Q1'18, but with a good bump in the number of deals. The volume jumped back supported by a wave of deals regarding early-stage fintech firms and the rise of a new unicorn – Revolut, a London based digital banking startup, that with the new $250M round led by DST Global, is now valued at $1,7B.
In addition to Revolut and the above-mentioned Circle and Tradeshift, the second quarter of the year saw the birth of two other unicorns: Dataminr and PolicyBazaar.
Dataminr is a B2B data analytics suite of applications that help to discover and classify key events and consumer signals in real time with the use of AI and Machine Learning. Their tools are used by investment banks and hedge funds to instantly act on market information.
They closed a $392M Series E in June, with primary investors such as Fidelity Investments, Goldman Sachs, and Credit Suisse. The current evaluation is between $1,2 and $1,6B.
PolicyBazaar is an insurtech startup based in India, that allows online aggregation and comparison of insurance policies, with quotes, recommendations, and big saves on insurance premiums. They raised a new $200M round led by Vision Fund in June, that takes the total raised to nearly $350M, and the company valuation to $1B.
With these five new companies now worth more than $1B, the number of VC-backed fintech unicorns reaches 29, with a combined valuation of $84.4B. Curious to note that is Ribbit Capital, the venture capital firm that has most active investments in fintech unicorns, having already invested in ten of those.
Do not hesitate to share this article!