The fintech market has grown quickly all over the world, with a new annual record recently set when looking at the total number of investments, an abundance of unicorns, new regulations and developments being announced almost every week, as well as hectic activity in terms of M&As and partnerships, both among fintech firms and with financial institutions. In all this vibrant scenery, China's fintech influence is getting larger each day, not just over the rest of Asia, but also way beyond its borders.
Among the tech unicorns and the key fintech players in the world, the percentage of those based in China is keeps expanding. According to Statista, the largest segment in the Chinese fintech market is represented by digital payments, moreover its total transaction value this year is an impressive $1,563,675m, with an average transaction per user of $1,885. These figures are expected to keep growing significantly with an annual growth rate of 18.5% in the next four years, reaching a total of $3,079,899m and as much as 967.84m expected users by 2023. The lack of good alternatives coming from the traditional financial institutions and a deep mobile penetration among the population are some of the key factors expediting the disruption process here.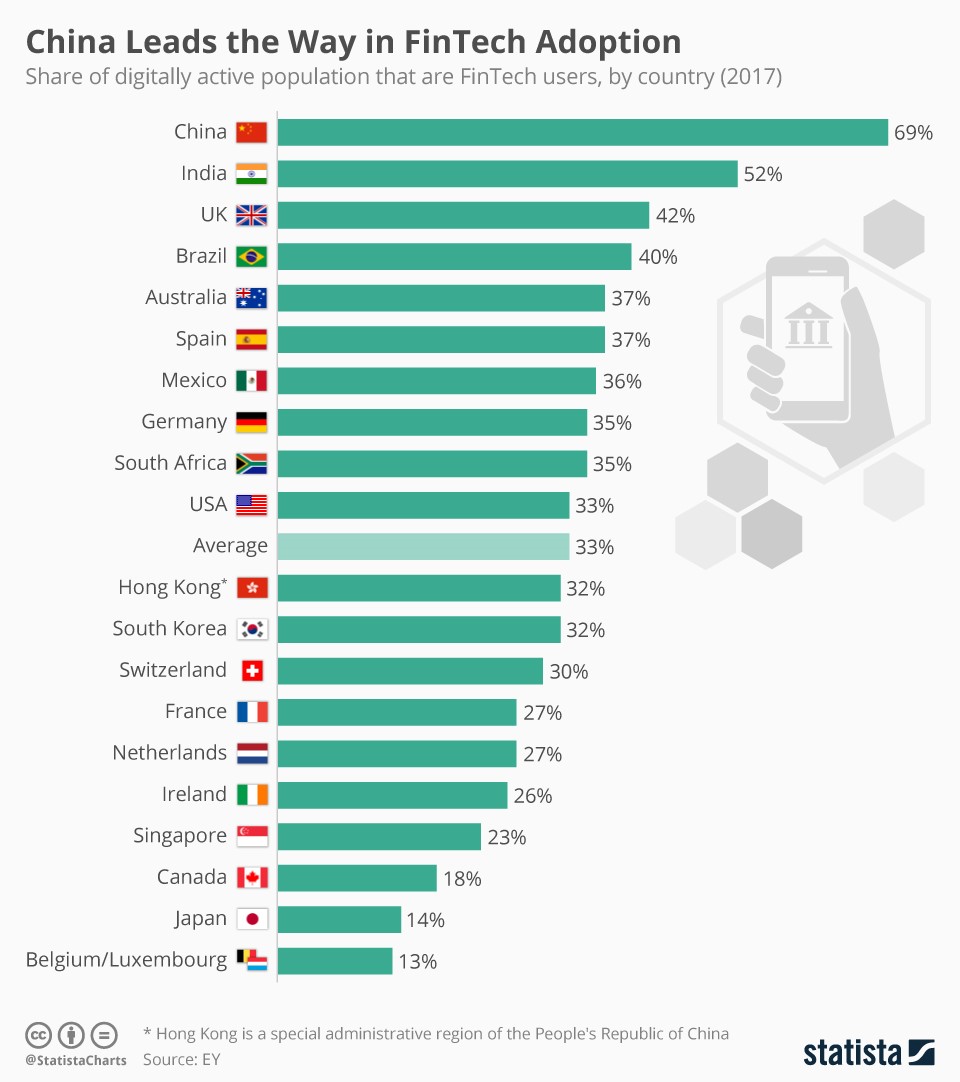 Source: Statista chart with EY data.
These are the three names of Chinese fintech companies that you should know:
Ant Financial – the fintech arm of Alibaba, the e-commerce superpower founded by Jack Ma. It's an online payment services provider, with its platform, Alipay, that is the most-used app in the world, with more than 1 billion annual active users around the world. Last year they raised a mega round of $14 billion from venture capital, giving it a $150 billion valuation. To give a sense of this amount, it is more than Goldman Sachs and Morgan Stanley combined. It's now expanding into the Western countries, mainly targeting Chinese tourists visiting Europe and the US.
JD Finance is the financial technology arm of another Asian e-commerce giant: JD.com. Founded in 2013 leveraging the experience and data of JD.com, offering ancillary services to e-commerce, it now has seven major business lines: asset management, supply chain finance, consumer finance, crowdfunding, payment solutions, securities and insurance. With last year's raise of about $2 billion from venture capital investors, they almost doubled their valuation to approximately $18 billion.
Lufax (LU.com) is a huge Chinese P2P lending and financing platform, with more than 40 million users and approximately $56 billion under management. They raised a $1.3 billion Series C last year, getting the company valuation to about $40 billion.
These are only a few of the biggest players in the region, but apart from these players growing stronger, the whole fintech ecosystem is growing, as well – with a clear consolidation and maturation of the sector with China's central bank, the People Bank of China, that recently announced that will set up new rules to gradually regulate the market. This move comes after some concerns emerged regarding financial technology firms being sufficiently equipped to prevent risks related to customer protection, considering the speed of disruption of traditional financial services with a local fintech industry that is literally booming.
And it's not just about fintech. Chinese tech companies that once were mainly looking at their national market, are now aggressively moving towards international expansion, not merely in the rest of the Asian continent (e,g. in Southeast Asia) but in other parts of the world as well, basically wherever they see good business opportunities. Something clearly explained by Simon Gleave, Regional Head of Financial Services, Asia Pacific and Partner at KPMG China who said: "There's no doubt that China's tech giants have global ambitions. For example, Alibaba is very keen to get its cloud services across Southeast Asia, Alipay is trying to penetrate international markets as Brazil and Tencent invested in challenger bank N26 in Europe. These tech giants are massive by any standard — and they'll likely continue to drive very large deals. But there are questions still around how they will do in markets that already have dominant payment systems and players. The next few years will be interesting."
Do not hesitate to share this article!