In early days of fintech, the growth Southern European market was slower compared to the rest of the continent. That initial gap has been at least partially compensated by robust growth in certain countries recently. With a stage of maturity that is still far from what we see, for example, in the UK, where the market is now entering in a consolidation phase, Mediterranean countries enjoy a lot of room to grow and opportunities for acceleration.
Let's take a look at Spain – while in 2013 there were just 50 fintech startups, 2017 has brought six times more new tech newbies reaching 300 companies mark, and this number is expected to grow for a 30% this year. It's not just about the number of fintech startups; it's also the value of operations that increased substantially, from €35 million in 2014 to €206 million in 2016, with a 600% growth in just two years.
Here few examples of financial technology companies that are making waves in Spain:
Kantox (https://www.kantox.com): a multinational fintech company offering FX management solutions, technology and expertise to solve currency-related business problems. Founded in 2011 and announced to have reached $1 billion in business foreign exchange transactions in 2015. So far they have raised $29.5 million in funding from various investors, including Partech Ventures and Idinvest Partners. Even if currently HQ'd in London, they have as well an office in the iconic Torre Mapfre in Barcelona. Antonio Rami, co-founder, and COO of the company are Spanish.
Fintonic (https://www.fintonic.com): a mobile banking platform that provides its users a way to organize their accounts and save money. The company offers insurance and investment products, as well as targeted loans. They have closed a €25 million Series B funding round in 2017, with first-tier investors like the ING Group and the insurance group PSN, with the aim to further improve their finance management app and expand in Latin America. Their HQ is located in Madrid.
IDFinance (https://idfinance.com/): ID Finance is a fast-growing data science, credit scoring and digital finance company that is pioneering fintech innovation in emerging markets. Founded in 2012, they have already completed two successful funding rounds. Headquartered in Barcelona, they also manage offices in  Poland, Georgia, Russia, Kazakhstan, and Brazil, as well as an R&D center located in Minsk, Belarus. The key company assets are represented by smart data online lending services in different niches: MoneyMan, AmmoPay, and Solva. The company aims to bring innovations into emerging markets and provides financial inclusion as a social mission.
It is also interesting to analyze the development of the fintech market in Italy, where the online alternative finance sector has grown exponentially on a year-on-year basis, passing from near to zero in 2013, to €127 million in 2016, with a 298% increase from the year before.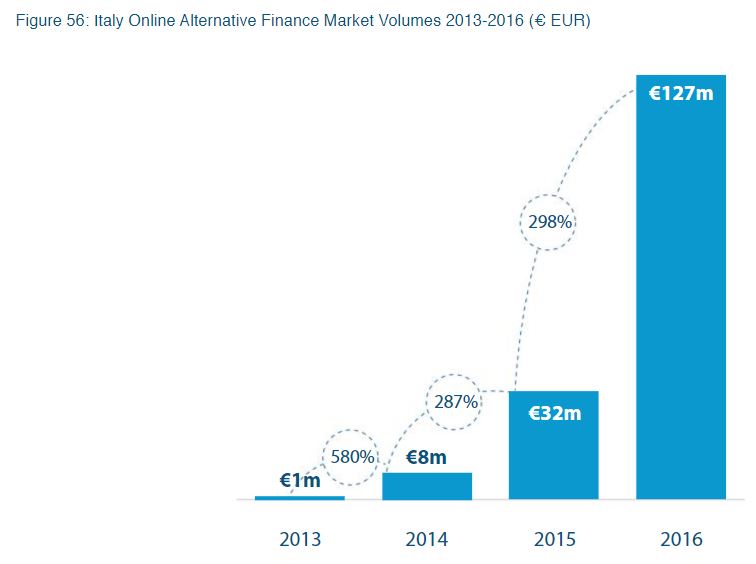 Source: 'Expanding Horizons' – the 3rd European Alternative Finance Industry Report by the Cambridge Centre for Alternative Finance (CCAF) of the University of Cambridge Judge Business School
These indicators along with the recent opening of the Milan Fintech District, the country's first hub dedicated to financial technology, set positive expectations about the future of the of the sector in the country. Here are few successful Italian fintech startups that we consider particularly interesting:
Satispay (https://www.satispay.com): a smart payment platform that enables individuals and merchants to send and receive payments. They have snowballed since their launch in 2013 and last year they have been able to close their third funding round, completing a €18.3 million Series B with four main investors represented by Banca Etica, Shark Bites, Sella Ventures and Iccrea Banca. The company is HQ'ed in Milan and have an office in London as well.
Modefinance (https://www.modefinance.com): it's the first fintech credit rating agency in Europe. Modefinance operates in fields of credit risk management and risk analysis, using Big Data and AI (artificial intelligence). They have received EU funding through the SME Instrument Programme, a part of Horizon 2020, and a further €1.3 million investment from Gruppo Corvallis. Their main office is based in Trieste, Italy.
MoneyFarm (https://www.moneyfarm.com): a digital wealth management company, that is growing pretty fast becoming one of the first robo-advisors in Europe regarding assets managed. Italian at its core, as in the case of Satispay they have offices both in Milan and in London, a solution followed by many Italian startups operating in the fintech sector. Since their launch, they have closed five funding rounds for a total of $29.8 million, from investors such as Allianz X, Cabot Square Capital, Principia SGR and United Ventures.
Outside of Italy and Spain, there's still not too much in the other Mediterranean countries. Greek and Portuguese fintech markets are still very undeveloped. This does not mean that there is no potential for growth in the nearest future, but quite the opposite. Portugal, in particular, is living a real technology boom, with Lisbon that is becoming an important startup hub and a magnet for young European talents. Otherwise, there are not huge cases of success for fintech related companies, at least not yet. On our side, we will keep researching and hope to see some great ideas emerge from those latitudes and we will then make sure to cover those in another post!
Do not hesitate to share this article!