When you log in to your VIAINVEST account, on the top along with the Account and Settings headers there is a header called Statement, which you can see here in yellow.

This page gives you a full review of every transaction in your account including your manual invested and automatically invested funds so you can track your performance.
One of the first things you see down the left side is your Account Summary, but it's not a conventional full account summary. This summary shows the current month's activity. Note that this summary is only tracking February's activity with the initial balance from 1 February.

Transaction Log
While the Account Summary is a nice tracking point for the month's activity, the most valuable information here is the transaction log, which is down the right side of the page. All of your principal and interest repayments are listed here for your entire account history.
We also made it convenient with links by loan numbers to the actual loan the repayment is part of so you can see which loans are paying off more easily. Click that link and it takes you right to the loan listing to see who paid you.
You can track interest, principal, withdrawals, deposits, investments made and even taxes withheld.
All of this is searchable under the Payment Value drop-down menu and you can search All transactions by day, week or month.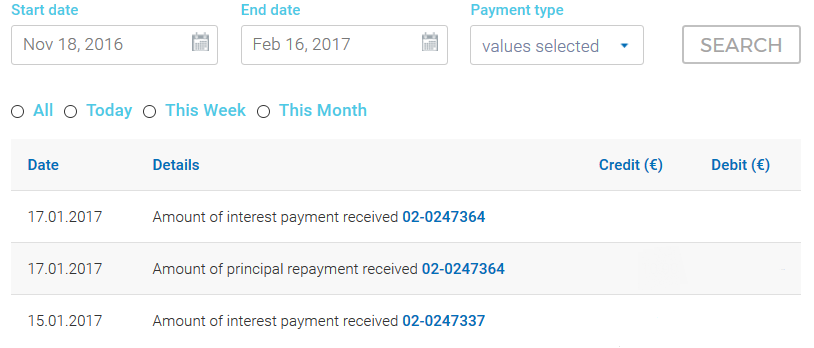 If you need to track how well your investments are doing, which loans aren't paying you, what your tax liability in your home country might be if your investment fully funded or not these are all things you can do right here from the Transaction Log.
Conclusion
We know you have some things that you need to keep track of like taxes and other things that you might want to keep track of like if a loan you invested in has fully funded. Our Statement Page is set up so you can easily find and track as many of these items as possible within your Account all in one place. In case if you need any other information to submit to your local tax authority, you can always request your account statement in Excel format. Such statement will be prepared manually if needed until automatic account summary generation option is implemented.
Do not hesitate to share this article!