In the dynamic world of fintech, the relationship between loan originators and investment platforms plays a pivotal role in ensuring the growth and security of investments. Delving deeper into this intricate bond, we sat down with the Managing Director of VIASMS.lv – Mārtiņš Magdeburgers.
VIASMS.lv is a renowned name in the Latvian lending landscape and a key loan originator for VIAINVEST. As we unravel the journey of VIASMS.lv, its operational strategies, and its vision for the future, we uncover insights that not only highlight the synergy between the two entities but also shed light on the broader lending ecosystem in the Baltics. Join us as we navigate the story behind VIASMS.lv's rise, its commitment to quality, and its forward-looking approach that solidifies its position in the VIAINVEST framework.
Background and Evolution:
"SIA VIASMS.lv is VIASMS.lv group's first credit firm, having been created in November 2009. Initially, the company entered the market with the "payday loan," which was the most popular product in the non-banking lending industry at the time. SIA VIASMS.lv quickly established itself as one of Latvia's major non-bank lenders. As market trends, and available technologies changed over time, SIA VIASMS.lv expanded its variety of credit products, developing the now-popular flexible open-ended credit line."
How did VIASMS.lv come to be a loan originator for VIAINVEST?
"Actually, it was the other way around: VIAINVEST became the lending platform for VIASMS.lv. This was a strategic move by the VIASMS.lv group, marking a crucial turning point in the VIASMS.lv Group's business and allowing SIA VIASMS.lv and other subsidiary firms to grow more quickly."
Who are VIASMS.lv customers?
"According to data, VIASMS.lv customers are between the ages of 21 and 70, have a stable income, a secondary or higher education, and are part of a household with 2-3 children. Customers prefer the VIASMS.lv credit line because it is the most flexible solution on the market with the lowest monthly charge. This effectively provides the consumer control over how quickly the loan is repaid. Customers benefit from this strategy since they can change the payment as much as they can afford based on their financial status at the time. It's worth noting, though, that the required minimum monthly payment must be made."
Role and Operations.
Considering the long-standing company operations, experience, development, and recognition of SIA VIASMS.lv – despite Latvia's relatively small population, we are presently the largest in terms of loans granted and portfolio size. This basically offers us the "leadership role." Not only do our own clients rely on us, but as VIAINVEST statistics show, VIAINVEST clients also believe in the SIA VIASMS.lv portfolio.
The evaluation and oversight procedures designed by the Risk Department and the AML (Anti-Money Laundering) Department ensure the quality of loans and their monitoring. These are augmented by our self-developed "scoring" model, which collects diverse client data from several official databases. Also, client "monitoring" is an important part of quality assurance and compliance."
Market and Competition:
What sets VIASMS.lv apart from other loan originators in the market?
"Without a doubt, it would be the product itself, which differentiates greatly from other products on the market. However, putting the product aside, I'd want to highlight two qualities that we have as a fintech company: the capacity to change quickly and be flexible both internally and with our clients. Many firms' decision-making processes are extremely complex, resulting in many ideas "getting stuck on employees' desks.
This relatively simple decision-making mechanism is beautifully supplemented by the fact that we have our own "in-house" IT, legal, risk and marketing, product, AML, debt collection, BI (Business Intelligence), and customer service departments – a large team capable of quickly implementing and executing the decisions made. It would probably be more complicated if an outside service provider handled this.
In order to optimize operations across this many departments and give borrowers the best possible experience, we also use machine learning technologies in this cutting-edge digital setting."
Challenges and Learnings:
"The adoption and control of legislation for the prevention of money laundering, as well as the introduction of special legislative constraints for financial product promotions, were among the most significant improvements. Many market participants have been unable to adapt to these developments, resulting in severely reduced competitiveness.
When discussing obstacles, one mustn't ignore the COVID-19 pandemic and its effects, which have changed everyone's life in some capacity. It was also a time of considerable challenges for SIA VIASMS.lv, and it was critical to make timely decisions based on risk assessment. However, thanks to effective teamwork, we were able to transcend this phase, with the only remaining substantial difference being "working from home." Now, employees' daily lives would be impossible to imagine without it. The positive message from COVID-19 is that a balance has been found.
Risk Management and Transparency:
In the interest of transparency, how do you keep VIAINVEST and its investors informed about the performance of originated loans?
"My everyday work revolves around the operations and results of SIA VIASMS.lv. As a consequence, I know that if the company I oversee meets its objectives, the VIAINVEST investors will be pleased. We get various statistics and information every day at the company level, which we carefully analyze, and VIAINVEST publishes these statistics on its website and social networks. Loan Originators (LO) are basically behind-the-scenes workers in the eyes of VIAINVEST, whereas VIAINVEST collects, packages, and delivers information to investors. All relevant information and annual reports are available on our websites."
Are there any specific goals or milestones you're aiming for?
"Our goal is to maintain our market leadership, work on our corporate social responsibility agenda, and increase brand recognition. This year, a substantial emphasis has been placed on portfolio growth; to achieve this goal, we have obtained extra investment and launched many new collaborations, which have brought in additional clients. However, a large portfolio necessitates great responsibility, so in these economically challenging times, it is critical for us to consider situations where clients may face financial difficulties – thus, we are currently developing a policy that will allow the application of special procedures for those clients who have objectively fallen into financial hardship and require contract terms to be loosened.
We also take into account our existing clients and have implemented several projects to improve and facilitate the customer experience. For example, VIASMS.lv has integrated new authentication tools – smartID and eParaksts – and there is an ongoing project to make it easier for clients to pay their invoices.
This year, we performed several marketing projects to increase brand recognition, such as participation and sponsorship in the largest Latvian music festival "Positivus", sponsorship in the TV show "The Masked Singer", and most recently, there was a social media campaign where an "Apple MacBook Air" could be won."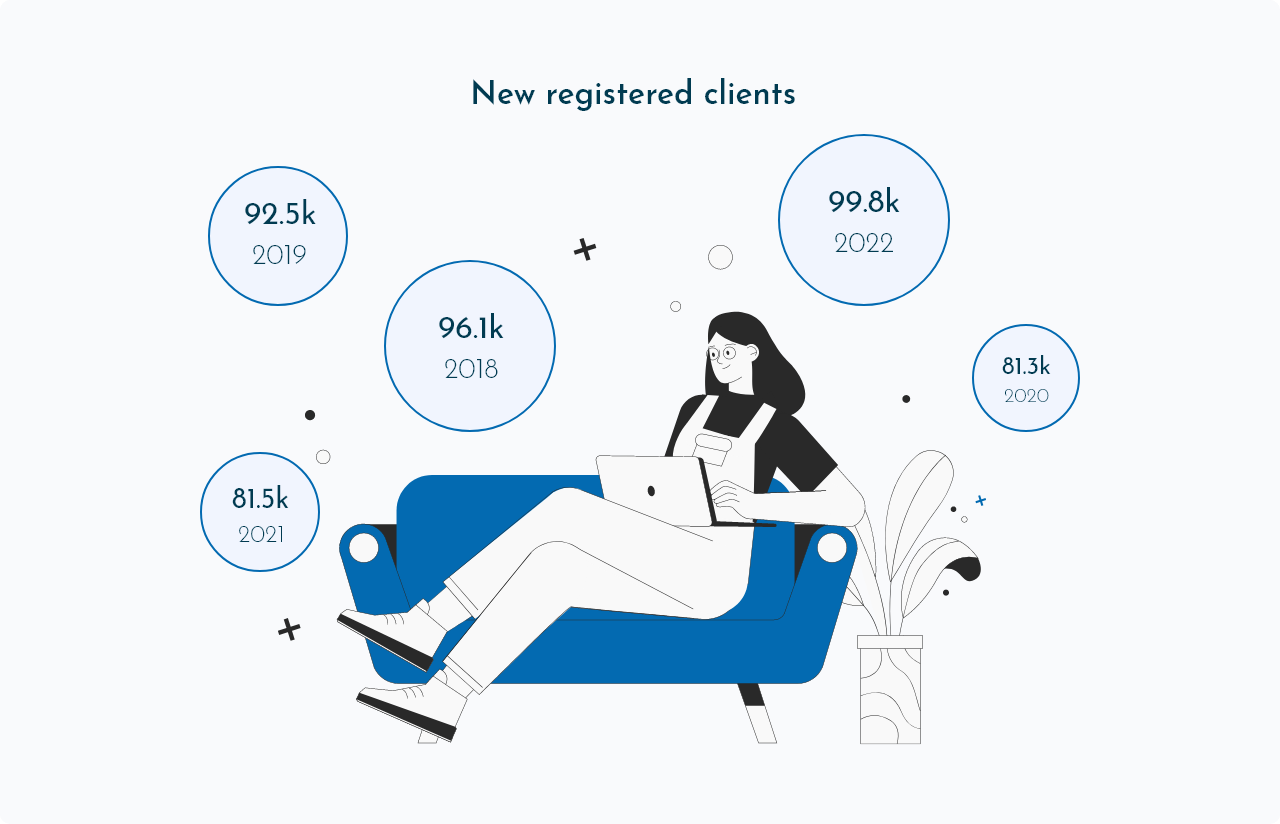 What is the future outlook for VIASMS.lv in terms of loan origination?
"We have an overall positive outlook and the data speaks for itself. VIASMS.lv is on track for growth."
When examining the last five years, VIASMS.lv has shown a noteworthy increasing trend. These numbers demonstrate their steady market position and the confidence customers have in VIASMS.lv. Here is a detailed breakdown of our results year by year: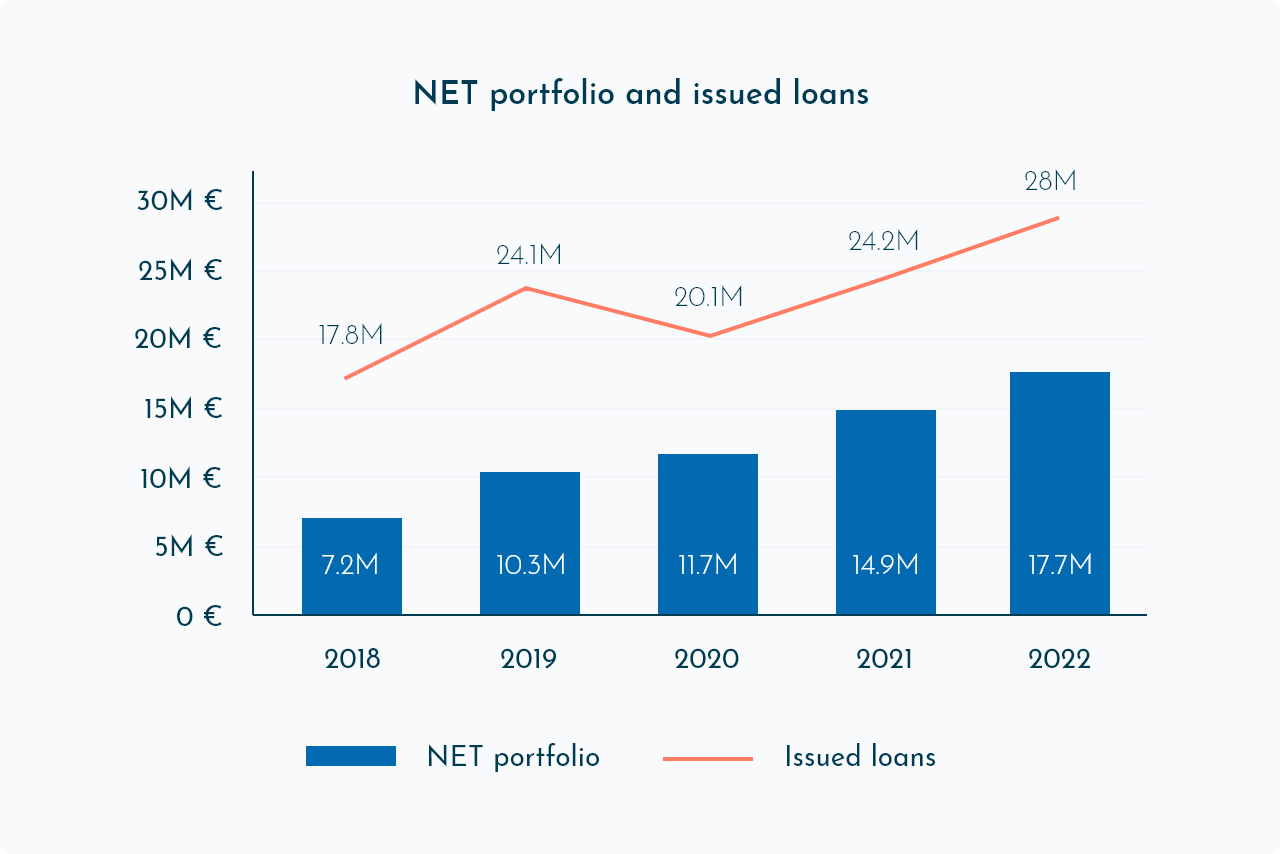 This is it for our first blog in our series on VIAINVEST Loan Originators. We're eager to tell our trusted investor community about the businesses they're investing in.
Happy investing!
Team VIAINVEST
Do not hesitate to share this article!