Our most effective investment tool has just gotten better. VIAINVEST'S Auto-invest solution has received a major overhaul and now includes pre-defined investment strategies to manage your investment portfolio.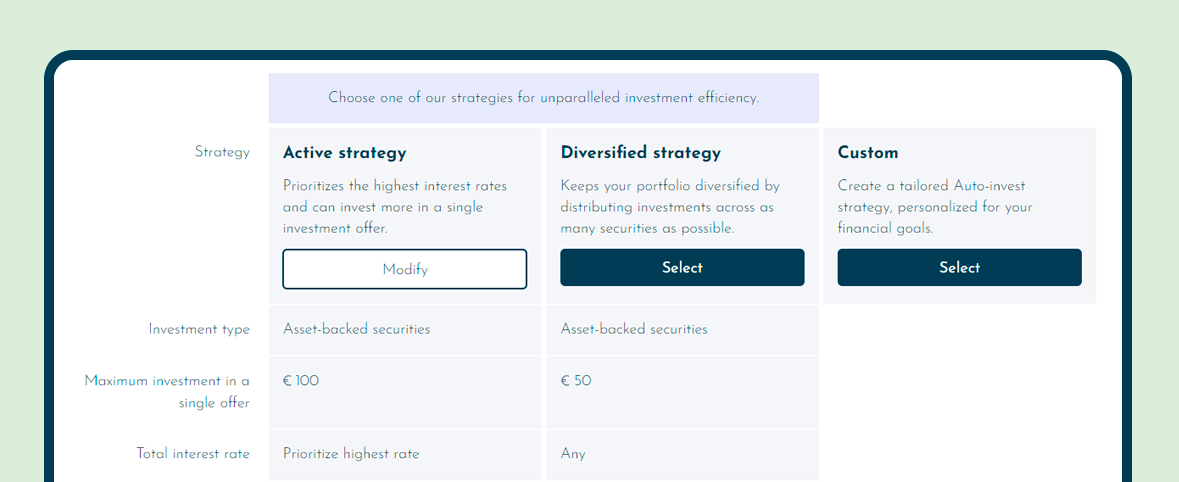 Pre-defined automated strategies
We are now offering Active and Diversified automated strategies to all clients who have completed a product suitability assessment and have automated investments available. VIAINVEST strategies are designed to invest in accordance with their objectives and automatically adjust to available offers; there is no need to actively manage them or worry about their settings. This simplifies the investment process and maximizes return by keeping funds invested at all times.
The active strategy prioritizes products with the highest interest rates and invests more in a single offer if it is consistent with the strategy goal.
The diversified strategy ensures that your investments are spread across as many securities as possible.

Custom automated strategies
In addition to pre-defined strategies, investors can continue to use your own custom automated investment strategy whenever they want to fine-tune the rules and retain more control over the investment process.
The Auto-invest settings page has been redesigned to be more user-friendly and simple. Investors can now create a custom strategy with a minimal number of settings, and additional filters can be added to meet their specific needs. When one of the filters is selected, an explanatory message is displayed to help the investor understand the filter's potential impact.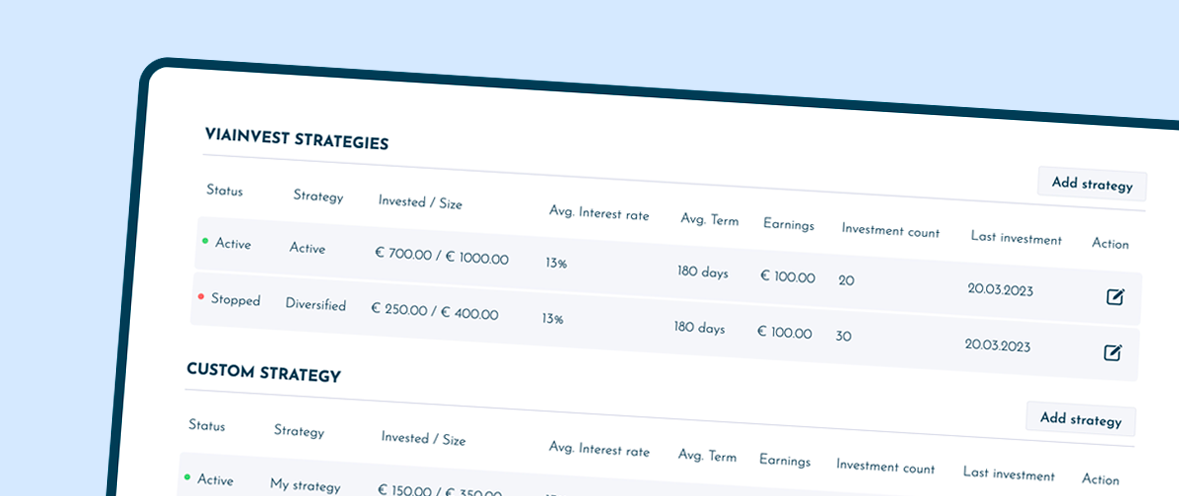 More investment insights
New metrics are available to track automated strategy performance, such as earned interest, live portfolio size, an overview of investments made, and more, allowing investors to always determine whether it met their investment goals. When investors use custom strategies, they are notified if strategies do not match our most recent investment offers, allowing to take appropriate action.
Any existing Auto-invest strategies remain unchanged, with all settings retained, and are accessible through the new interface.
Do not hesitate to share this article!